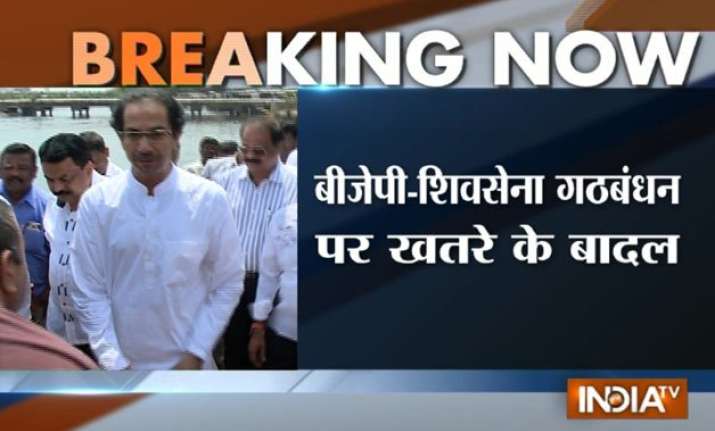 New Delhi: Shiv Sena and BJP appeared to be on the verge of parting ways in the wake of spat over Sudheendra Kulkarni ink attack incident.
Times of India reported that the Sena chief Uddhav Thackeray may soon ask the party's ministers to quit the Devendra Fadnavis Cabinet.
"Yes, it is very, very likely that we may severe ties with the BJP," a key party leader was quoted as saying in the report.
It is believed that a section in the party is keen on snapping ties with the BJP without further delay in view of the latter's 'condescending style of behaviour'.
The report also stated that Sena leaders are of the view that the BJP's popularity graph was 'declining' in the state and hence it will have to pay a heavy price in the upcoming civic elections.
It should be noted that just ahead of the Assembly polls in the state last year, the party had parted ways with the BJP over seat distribution issue. But after results were declared the two ally came together to form government in the state.
The latest development came in the backdrop of Kulkarni defacing incident. The Sena is upset with the government for providing security for the book release event of former Pakistani foreign minister Khurshid Mahmood Kasuri in Mumbai.
Party leader Sanjay Raut said that 'the man who has organised Kasuri s book launch in Mumbai (Sudheendra Kulkarni) is a Pakistani agent'.
Sena spokesperson Arvind Bhosale said there was no need for Kulkarni to host a second book release function in Mumbai when the tome was officially released in New Delhi recently.
Also on Sunday, Uddhav Thackeray was not invited for Prime Minister Narendra Modi's function in Mumbai which gave a clear indication that the BJP-Sena ties have hit a new low since the saffron alliance assumed office in the state in October last year.
Meanwhile, 6 Sena workers were arrested in connection with the paint attack on Kulkarni. The arrest came hours after police registered an FIR against unidentified persons for blackening the face of Kulkarni, Chairman of Observer Research Foundation (ORF).