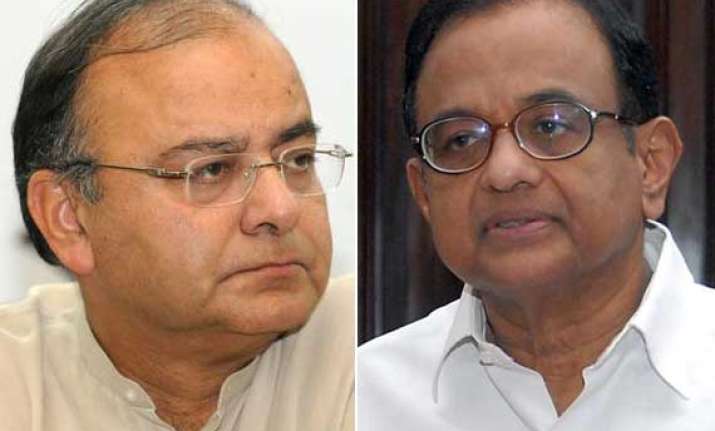 New Delhi, Aug 12:  Insisting that the situation in violence-hit Jammu and Kashmir is under control, the Centre today said it will extend all help to the state government in maintaining law and order and asserted that the repeat of forced migration witnessed in 1990 will not be allowed.
Finance Minister P Chidambaram, who made a statement in Rajya Sabha on behalf of indisposed Home Minister Sushilkumar Shinde, defended the decision of the state government not to allow BJP leader Arun Jaitley to visit Kishtwar town, the scene of communal violence.
Responding to concerns expressed by members over violence in the state, he said the situation in Kishtwar was "near normal" and no untoward incident had been reported since August 9.
While noting that violence had been witnessed in some other parts of Jammu province, the minister said, "Overall situation in Jammu and Kashmir is tense but under control."
He said sufficient army contingents had been deployed in violence-hit areas and they conducted flag marches to instill confidence.
"The central government will extend all support to the state government to maintain law and order and ensure peace and harmony in the state," he said.
He sought to dismiss apprehensions that the situation could go out of hand and lead to a repeat of 1990 when the entire Kashmir Pandit community was forced to leave the Valley.
"We will not allow repetition of 1990. We will not allow forced migration. We will not allow forced resettlement," he asserted.
Stating that a judicial inquiry into the communal clashes in Kishtwar district would be conducted, Chidambaram said the state government would be asked to make it a "credible inquiry".
Giving details of the events that unfolded since Friday last in Kishtwar town, Chidambram said violence erupted after a clash between some individuals and processionists on the day of Eid.
Some of processionists raised "pro-azadi slogans", he said adding, however, that raising such slogans is not a new phenomenon as it happens "virtually every Friday".
Two people were killed in Kishtwar, while one was found dead in another area.
"So far death toll is three—one Hindu, two from Muslim community. But all of them are Indians," he said, adding that he deeply regretted this.
On the action taken, he said Deputy Commissioner and Senior Superintendent of Police have been transfered. Also, several people have been arrested and more arrests would follow.
About problems being faced by the state, he said, "There is a challenge of infiltration. There is a challenge of terrorists. There is also challenge of undercurrent of tension between one community with another."
He said it is not correct to assume that the undercurrent of tension between one community with another is linked to terror element or external aggression.
Chidambaram said "near normalcy" has been restored and every effort would be made towards maintaining law and order.
Rejecting the Opposition's charge of "censorship", he said Jaitley was prevented from visiting Kishtwar as the district administration came to conclusion that it was "not an appropriate time" for the BJP leader to go there. 
"This is not an unusual order. States have passed such orders in the past. District administration is the best judge of the situation," Chidambaram said, responding to questions by Jaitley as to why he was detained at Jammu airport which is quite far away from Kishtwar.
Observing that it was the time for restraint, he assured Jaitley and other political leaders that they would be allowed to visit once normalcy is restored.
Jaitley's party colleague Ravi Shankar Prasad questioned as to why a person of the stature of Leader of Opposition in the Rajya Sabha was detained under the Section 144, which prohibits assembly of more than four people at one place.
To this, Chidambaram said, "It is a status neutral section. It is also gender neutral, religion neutral and caste neutral." This evoked laughter in the House.
Members in Rajya Sabha voiced concern over violence in Kishtwar  area with Opposition saying the country's "sovereignty and integrity" was at stake and the matter should not be dismissed as an inter-community clash.
Initiating an impromptu debate in the House, Leader of the Opposition Arun Jaitley alleged that the state government had failed to take appropriate measures to control the violence and warned that it should not be a repeat of 1990 when an entire minority community was compelled to leave Kashmir
Valley.
"The violence in Kishtwar and adjoining areas involves the sovereignty and integrity of the country and should not be seen only as a clash between two communities," Jaitley said.
Comparing the events to the violence in 1990 in the Valley that had "compelled a community to leave", he said when the violence occurred last week, the state government officials had not taken enough measures to control the situation.
He said there are reports that a senior functionary of the government could be involved and demanded this aspect be probed.
"This incidence is not just an inter-community conflict," Jaitley said, adding that flags of another country were waved and pictures of a convict given death sentence displayed.
He sought to know why no arrest was made though hundreds of shops have been gutted and many people injured.
"People were crying out of helplessness," he said, adding, the situation was out of control due to which the injured could not be admitted to the civil hospital and were rushed to the military hospital.
Jaitley sought to know if the government was trying to impose censorship by not allowing him and other leaders to visit the area.
He recalled that in the past when such a situation arose then Home Minister Shivraj Patil and later his successor P Chidambaram had taken all-party delegations to help people exhaust their anger and calm down tempers but now an "iron curtain" has been imposed so that nobody enters the state.
Hitting out at the state government, Jaitley said the state of Jammu and Kashmir is not property of any one family.
 He said India is not a "banana republic" where an indefinite order is issued under Section 144 banning a person from entering Jammu region.
Jaitley said, "Jammu & Kashmir is an integral part of India. We have to decide how to govern it...What if BJP-ruled state governments invoke section 144 to stop AICC members to enter the state...It is the issue of India's sovereignty."
Questioning why people were not arrested, he demanded immediate corrective measures besides booking the guilty.
Participating in the debate, BSP Chief Mayawati sought imposition of President's Rule in Jammu & Kashmir for failure to check violence in Kishtwar area.
Seeking a high-level probe into the episode, she said, "Home Minister of the state remained silent on the episode. An FIR should be lodged against him and he should be jailed. If the government fails to lodge FIR, then President's Rule should be imposed by sacking the state government."
Expressing sadness and anguish over increasing violence in the Valley, she said son of BSP Kishtwar district president was shot dead and 17 bullets were fired on him to ensure he was dead.
She said state's Home Minister was at Kishtwar at the time of the incident but did not take any step to control the situation.
Sitaram Yechury (CPI-M) said, "It is with a deep sense of agony and anguish I point out that what happened in Kishtwar is not a localised law and order problem but something of a larger magnitude...Transgression on the Line of Control has increased. Militant's infiltration has increased."
Seeking Centre's intervention in the matter, he said it should be probed why laxity was shown by authorities there in controlling the situation.