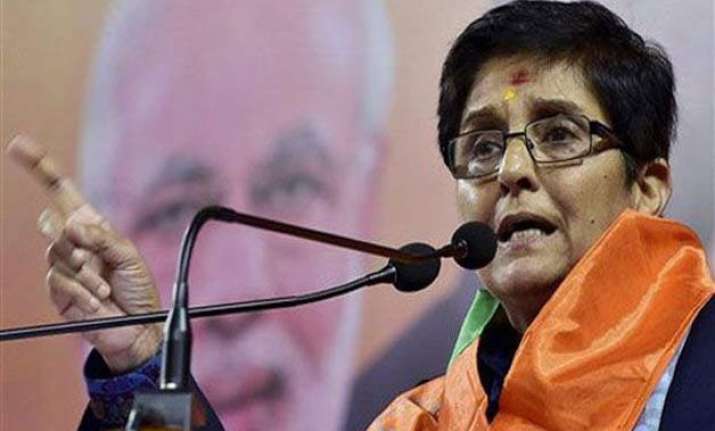 New Delhi: Delhi Elections are just around the corner and the BJP's chief ministerial candidate Kiran Bedi, amid hectic schedule in campaigning for the party, says that if she loses these assembly elections she will go back to Oxford and Harvard for her speaking engagements.
In an interview to leading English daily, she said that she is a team builder who takes responsibility and that her good work will make news now.
Targeting the Aam Aadmi Party she said it will be disastrous if Delhi goes back to dharnas and agitations and they have a habit of charging their each and every strong opponent.
She was largely criticized after turning to politic from a social activist, to which she replied that she is still learning but turned down the question of being working full time.
"I am in political administration through political route. Earlier I was in public administration through the route of the IPS, now am in politics through the national political party called BJP," she said.
Bedi has her dream vision of connecting Delhi to the govt. of India and brings out the concept of Shramdaan tomake the city clean.
In her 6 Ps concept she includes Parents, People, Police, Prosecution, Prison and Press. "Women's security has to have a holistic approach. Begin with families: parents. How is a women respected at home, how to the Principles teach, how do the pradhans lead. So parents, principles and pradhans that's one P, for People. Then Politicians, what does he say or do, then comes Police are they doing community policing. Next, fast track Prosecution, fifth Prison reform, last media, or Press." she said.
Walking on PM Modi's footsteps to connect with the public via "Man ki Baat" , Kiran Bedi will too come out with "Dil ki Baat" on a monthly basis talking on various issues concerned to the society. She insisted on being equal, competent and self reliant to deal with the issues like gender discrimination.
Bedi laid emphasis on empowering the women and child education of different slums in Delhi and promises that her hard work in this sector will make news time. "My work in slums for 26 years is unparalled by a public servant. I've worked in the slums of Bawana, Yamuna pushta jhuggis, in unauthorised colonies in Kalaram Majri, in 70 villages in Haryana which does not make news, but now my good work will make news," Bedi said.
Kejriwal has promised free water and supply but Kiran Bedi has a different point of view. She rather insisted on precious product which is for larger consumption like water and electricity to be kept at a reasonable price so that demand matches the supply. One cannot simply give everything free because Kejriwal's habit of borrow and spend will run Delhi into bankruptcy.
She also said about the policy of statehood in BJPs manifesto and insisted that a CM and LG should work together as CM has a larger civil defence force which is scattered and flittered but had to be utilized for the benefit of the state.
Kiran Bedi refused of having any issues with the party and said that people want Delhi to connect with the Modi-led govt in center otherwise one will see the dharnas again and again.
However she gave a very diplomatic answer to the question of US President Barack Obama's views that India divided on religious lines can't progress which was seen as a criticism of the BJP. "I'm a total humanist. I went to a convent school and college. One side of my family is from a mixed Sikh background, the other half is Hindu. In my neighbourhood I had many Muslim friends. When I wrote the IPS, for me my religion was humanity. I practise humanity, she said."
She believes Ghat Wapsi is the freedom of religion until it is not compelled and there is no complaint. "If I want to change my religion, its my right, and if somebody is facilitating it, that's within the law, " she added.
Bedi do not agree with Anna Hazare's belief in political party system but says her relationship with the social activist remains inspite of their disagreement.
If the election results which are scheduled to be announced on February 10 do not came in Bedi's favour, she would stay as a party member and would go to foreign universities like Oxford, Harvard and Cambridge where her speaking engagements are on hold.
She also desire to go back to her trust Nav Jyoti and India Vision Foundation from which she resigned earlier.