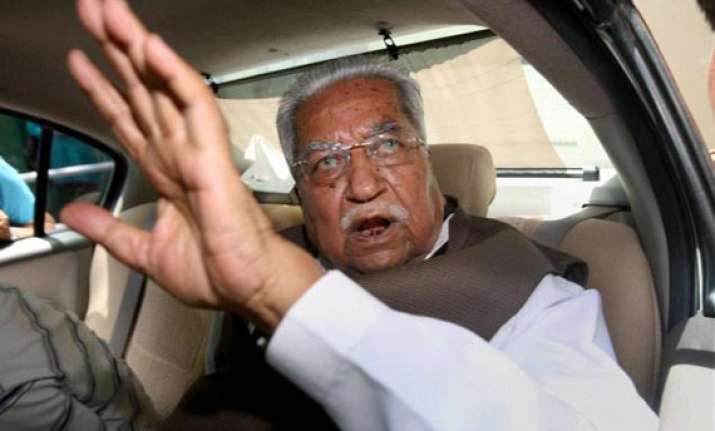 Rajkot, Nov 5 : Keshubhai Patel, former chief minister and president of the breakaway Gujarat Parivartan Party, today criticized BJP chief Nitin Gadkari for his remark about Swami Vivekananda and Dawood Ibrahim, and asked whether Gadkari had gone to measure the intelligence quotient level of the underworld don.
Speaking to reporters here, Patel said, it is sacreligious even to compare both. "Everyone in BJP is living in a different reality, and the fruit of BJP has gone rotten", said Patel, indirectly referring to Narendra Modi.
Describing Modi as "publicity-hungry", Patel said : "Modi has spent around Rs 160 crore for observing fasts in various districts in the state.
"Fast is considered as penance in every community but the Gujarat Chief Minister has made a cruel joke of it by wasting people's money for self-propaganda. He has misguided the people of Gujarat with his false claims".
The GPP chief also alleged that decks were cleared for the Nano project with ready land at Sanand near Ahmedabad only for promoting his cause, ignoring the local industry.
"The Modi government has not provided any aid to local industry but extended benefits to the tune of Rs 3,300 crore to the Tata Company for bringing the Nano car project to Gujarat only for his propaganda," he said.
Flaying Modi for favouring a section of industrialists in the state, Patel said, "In Modi's rule, the money has become centralised and only few industrialists are getting all the benefits but GPP does not believe in this and will work to boost local industry if voted to power."
The former Chief Minister also held Modi responsible for farmer suicides in Saurashtra region and said that ruling BJP's faulty policies have led to distress in the state.
"When I was the CM, 1569.50 crore units of electricity was given for agriculture purposes but this supply has been shortened by Modi government to 1328.50 crore units," he said.
He said that his party's mantra is "Har khet ko pani, har hath ko kaam and har ghar me bijli" (water to every field, work for every hand and power supply to every house).
Patel also slammed the UPA at the Centre and Modi government for failing to control high inflation. He said that GPP will emerge with absolute majority in the upcoming Gujarat assembly polls.
"Neither Congress nor Modi-led BJP is concerned about people's basic amenities. GPP is the only party which will pay all possible attention to solve people's problems like control on high inflation, sufficient supply of power and water for irrigation, jobs for youth and concrete houses for the poor.
GPP will emerge with absolute majority after the December polls," the party chief claimed.
He said his party will give relief to people in petro products and electricity.
Besides, jobless youths would be given allowance upto Rs 2000 for two years and illegal societies in the state would be made regularized.
The party is preparing its list of candidates and by November 15, it would be finalised, he said.
"We  will get the election symbol within 4-5 days", Patel said. On whether his son Bharat Patel will contest the assembly elections, the veteran leader said that it was for him take a call on the issue.
"I will contest from Visavadar constituency, while Gordhan Zadafiya's constituency is yet to be decided," Patel said.
He claimed that people are joining GPP in large numbers and so far the party has over 15 lakh registered members.