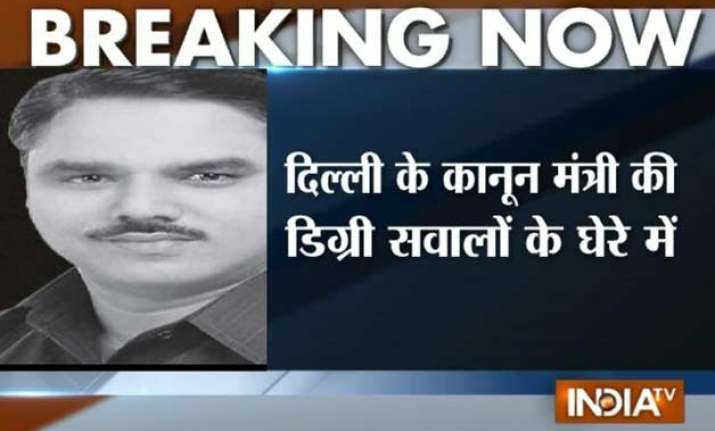 New Delhi: Delhi Chief Minister Arvind Kejriwal has summoned Law Minister Jitender Singh Tomar after a Bihar University submitted in High Court that latter's provisional certificate is fabricated and does not exist in the institution's record.
Media reports suggest that Tomar may be removed from the post after today's meeting with Kejriwal. However, there is no confirmation from AAP.
Tomar will also lose his membership from Vidha Sabha if court founds that the degree produced by him is fake.
Tomar is facing criticism since the time of filing nomination papers in run-up to the Delhi polls earlier this year. At that time he had contended that the petitioner produced fake documents in the High Court challenging his educational qualifications.
Yesterday, Tilak Manjhi Bhagalpur University placed before the court its enquiry report stating that the serial number of the provisional certificate in the record showed the name of some other person and not that of Tomar.
"It is respectfully submitted that on the basis of the enquiry report, and in the university records, the provisional certificate bearing serial number 3687 was issued on July 29, 1999 to Mt Sanjay Kumar Chaudhary for BA (Honours) Political Science examination held in 1998.
"Accordingly, the provisional certificate in the name of the respondent no.5 (Tomar), is fabricated document and does not exist in the records of the university," the affidavit placed before a bench of Justice Rajiv Shakdher, said.
Meanwhile, the BJP and Congress have demanded immediate dismissal of the minister.
"He should be dismissed... The university said this in court," BJP leader Meenakshi Lekhi said.
"Serious and concerning this is that Arvind Kejriwal is aware of this, it's a shame on Government of Delhi. CM should demand the resignation of law minister, should not be at his position now," Congress leader PC Chacko said.