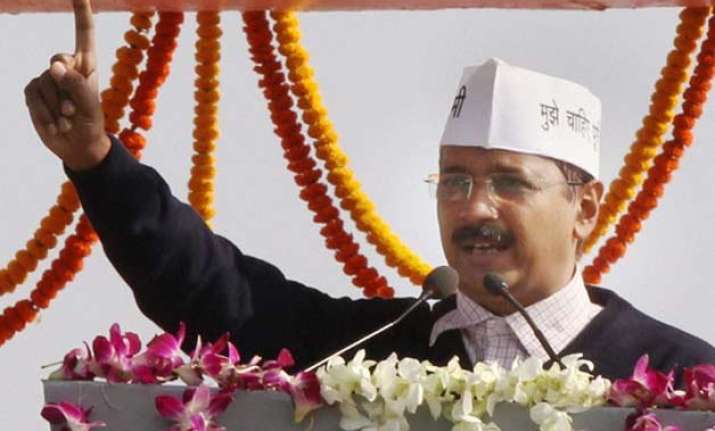 New Delhi: Stating that he doesn't care about media, Delhi Chief Minister Arvind Kejriwal today said that if election is held in the national capital today, Aam Aadmi Party would poll 72 per cent votes.  
"Whatever comes in the media, but I conduct a survey every 15 days of my party in Delhi. If elections are conducted in the national capital, then we are ought to get 72 per cent votes. After the elections, our condition has improved a lot," Kejriwal said, while interacting with party volunteers RPT party volunteers through Google Hangout.  He also said that his government is going to complete 100 days. After the Delhi Assembly's elections, people's affection has increased towards the AAP.
The Delhi Chief Minister also took a dig at the Narendra Modi-led central government, saying "normally, it is seen that parties win the election, but gradually people get fed up of them. The biggest example of this is the Modi Government at the Centre".
"Their popularity has decreased from the time they came to power. But our popularity has increased and today if elections are conducted in Delhi then we will get 72 per cent votes according to our survey."
In the last Assembly elections, the AAP polled 54.59 per cent.
Kejriwal said the AAP government is going to complete 100 days in its office on May 24 while the Modi government will complete its one year on May 26.
"I think there should be comparison of work between Modi's and our governments. There should be comparison as to what we have done in the last 100 days and what Modi's government has done in the last one year," he also said.  
Attacking the media, the Delhi Chief Minister said, "Media keep showing us in negative light but don't worry about that as people of Delhi is happy with. Despite seeing media, people gave us 67 seats."
"As far as starting a media house is concerned, we don't want to do that. There are good people in media too, who are not happy. If some senior people come together and want to start a news channel or news paper, the government will definitely help them. We also want a honest media house which only shows news," he said.