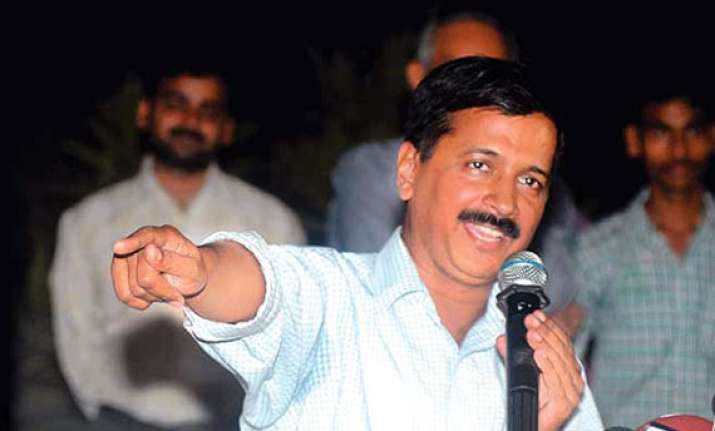 New Delhi, Jun 21: With Arvind Kejriwal starting an aggressive campaign against Chief Minister Sheila Dikshit on a host of issues, her political adviser has asked the Aam Admi Party leader to refrain from making personal attacks which reduce politics to a "cheap gimmick".
In a strongly worded letter to Kejriwal, Pawan Khera asked him not to use language "unbecoming of an educated man" while stating that the AAP leader was free to take a political stand against individuals and policies.
Kejriwal has already announced that he will contest against Dikshit in her New Delhi constituency in the Assembly polls slated for November 2013. The AAP leader had also said that if she decides to contest from another seat, then he will also contest from there. 
The AAP leader has been attacking Dikshit for steep rise in power tariff in the last two years and had accused her of siding with the private power distribution companies, besides targeting the Delhi government for "widespread corruption".
"In the past too you have used language unbecoming of an educated man against your political rivals. Here we are talking of a lady who has neither responded to your abusive campaign nor has herself indulged in any such malicious campaign.
"While you are free to take a political stand against individuals and policies, kindly refrain from such personal attacks which reduce politics to a cheap gimmick," the letter said.
In his letter, Khera mentioned about the "campaign on the auto-rickshaw" against the government and said it did not reflect a "dignified" political culture. A section of the autorickshaw drivers have been putting advertisements and posters against the government on their auto rickshaws.
"I do not wish to question the cultural background of those behind these posters but since it carries your picture and your party's logo, I think you should intervene to stop such campaign, since you have all along claimed to be a representative of civil society," Khera wrote in the letter.
"I understand you are new to Delhi and you still stay outside the city. I do not blame you for a lack of understanding of either the issues or the culture of the city. It becomes my duty to educate you about the political culture of Delhi. Not abusing each other does not make us friends. We can continue to be rivals even with grace," it said.
The Delhi High Court had yesterday stayed the city government's recent move prohibiting auto drivers from putting advertisements and posters on their auto rickshaws. Accusing Kejriwal of disrespecting Dikshit, Khera said her contribution towards the development of the city cannot be undermined by "novices".
"We have been fighting to ensure respect for women in society. But if a political party - which you claim you are - stoops so low as to show disrespect to a lady leader, what can be expected of its conduct towards women in society at large?" he asked.
"I am sure such campaigns are not your brain child as I have dealt with other IIT graduates and IRS officers and found their conduct extremely civilised. In case you have been ill advised by some of your new friends, please ensure that your group refrains from indulging in such an undignified campaign.
Kindly ensure immediate removal of these posters to help maintain a clean political culture," he said.