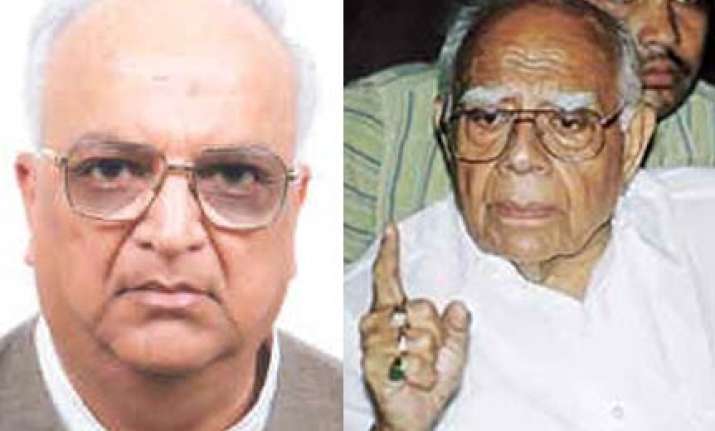 With its stakes high in Thursday's Rajya Sabha elections with noted lawyer Ram Jethmalani as one of its candidates, the BJP is taking no chances and has herded most of its MLAs in a hotel about 20 kms from in Jaipur .The Congress, which can win two candidates on its own strength, is also not leaving any stone unturned in its bid to get an independent elected with its support. 
With reported differences in BJP over Jethmalani's nomination, the Congress is backing Santosh Bagrodia, a former union minister, who is contesting as an Independent. Commerce Minister Anand Sharma and Ashaq Ali Tak are the Congress candidates. 
The BJP, which has 79 MLAs, is sure of the success of one of its two candidates--VP Singh and Jethmalani--a founding member who returned to the party only to contest the poll. It needs three more votes.
JD(U) MLA Fateh Singh has also expressed support to BJP in the election as the two parties are in alliance. 67 BJP MLAs have been put up in a hotel in Jaipur suburbs where 87-year-old Jethmalani was interacting with the MLAs seeking their votes. 
With every vote counting, both the sides have stepped up their efforts to woo members. The decision of CPI(M) which has three MLAs to abstain from voting has added uncertainty in the contest. 
Jethmalani, a minister in the Atal Bihari Vajpayee government and had contested against him in the 2004 Lok Sabha elections, expressed confidence about his election. "It is not a question of do or die. The party has given me a chance. I have full faith in MLAs, will win and work for public." 
He said the BJP does not admit a person who is not welcomed by workers and MLAs. "My confidence depends on the confidence of my supporters. Their confidence is absolute and so is mine." He claimed that the CPI(M)'s decision to abstain from voting would help him. 
When asked how he looked at herding of MLAs in a hotel, he said "It is good meeting voters at one place specially for the new MLAs who probably have not interacted with me in the past". 
"There are senior party leaders who are telling new MLAs how to vote and other technicalities of poll process. There is nothing wrong in sitting at one place, might be away from the city. Seniors are giving lectures to all of us." Asked about the need to flock MLAs together, BJP leader and former chief minister Vasundhara Raje said the party has always done for camaraderie.
On the Congress front, Union minister and AICC General Secretary Mukul Vasnik will be reaching Jaipur late in the evening to hold meeting with the party MLAs, a spokesman said. 
The CPI-M, with three MLAs, would boycott the polls as the party was dead against the policies of the ruling Congress and the Opposition BJP in the state, Legislature Party leader Amraram had said yesterday. 
"Moreover, our party does not want to vote for Santosh Bagrodia who is contesting as an Independent and is supported by the Congress," Amrarm said. The polling for four seats is slated for June 17. In the 200-seat House, the ruling Congress has 102 members, BJP (79), CPI-M (3), JD-U(1), Loktantrik Samajwadi Party (1) and SP (1). 
There are 13 Independents, of which ten have been supporting the Congress. Each candidate requires 41 first preference votes to win the seat. PTI