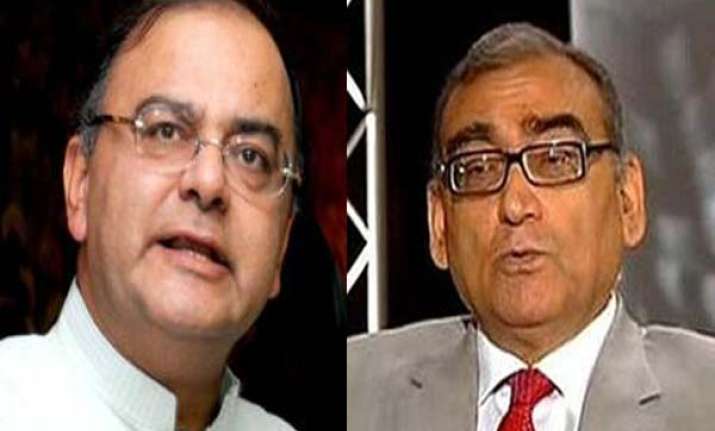 New Delhi, Feb  17: A war of words broke out today between Markandeya Katju and the BJP over his article critical of Gujarat Chief Minister Narendra Modi with party leader Arun Jaitley dubbing the PCI Chairman as "more Congress than the Congress" and demanding his resignation.
Katju, a retired Supreme Court judge, hit back at Jaitley accusing him of twisting facts and asked him to quit politics.
Jaitley, in a statement here, said Katju's article in a newspaper against Modi read more like a personal tirade and wondered whether the former Supreme Court judge was trying to hold a brief for those who have been convicted in the Godhra train burning incident.
Katju had said that "there is still a mystery of what happened in Godhra" and he found it hard to believe "that Modi had no hand in 2002", referring to the Gujarat riots.
Referring to the Press Council of India Chairman's criticism of Modi and Bihar Chief Minister Nitish Kumar, Jaitley said,    "His attacks on non-Congress governments whether in West Bengal, Bihar or Gujarat seem more in the nature of thanks-giving to those who provided him with a post retirement job."
He took exception to Katju's remarks that the people of the country should not make the same mistake made by the Germans in 1933.
"I concede to Justice Katju the right to hold his political views, but can the occupant of a job whose functioning is quasi-judicial openly participate in political activity. His appeal is political. He appears to be more Congress than the Congress party," Jaitley said, adding he should "either quit before actively participating in politics or be sacked."
Katju, in turn, accused Jaitley of twisting facts and said that he had written "very strong" letters to Congress-ruled Maharashtra's Chief Minister Prithviraj Chavan over the arrest of two girls for a Facebook post after the death of Shiv Sena supremo Bal Thackeray.
Katju said he had also issued a strong statement against Himachal Pradesh Chief Minister Virbhadra Singh when he had told a mediaperson that he would break his camera.
"Mr Jaitley is clearly guilty of twisting facts. He has criticised me for a report against the Bihar government for suppressing press freedom," he said.
"That was not my report, but that of a three-member team of the members of the Press Council of India. Here again, Mr. Jaitley has twisted facts," Katju alleged.
Referring to Katju's remarks against the governments of Bihar and Gujarat, Jaitley said he was yet to read a comment from Katju which prefers meritocracy over dynasty as an instrument of leadership creation.
"Obviously, such comments would embarrass those who desire to legitimise India as a Dynastic Democracy. The crusader in Justice Katju subjects himself to self-censorship when UPA's corruption from the 2G spectrum allocation to the coal block allocation are to be commented upon," he said.
Terming the remarks as political, Jaitley asked "should not a former judge who currently occupies a quasi-judicial office as Chairman of the Press Council of India, either quit before actively participating in politics or be sacked."
"Retired judges must remember that the rental for occupying a Lutyen's bungalow post retirement has to be political neutrality not political participation," he said.
The PCI Chairman has always been a retired judge of the Supreme Court, Jaitley said adding that he deals with issues relating to the freedom of press, possible encroachment of the said freedom and also hears complaints relating to lack of professionalism in media reporting and comment.
"The Chairman of the Press Council discharges a statutory job. His job requires fairness, impartiality and political neutrality. Additionally a Judge, whether sitting or retired, is expected to conduct himself with sobriety, dignity and grace. He cannot be loud, crude, outlandish or behave like a megalomaniac," the BJP leader said.
Jaitley said it was a fundamental principle that in the conduct of judicial or quasi-judicial functions a Judge should refrain from involving themselves in political controversies.
"If he desires to get into a political activity or a political debate, he should cease to hold his judicial or quasi-judicial office. In any case his views are liable for the same level of scrutiny and comment as is applicable to politicians," he said.
Reacting to Jailtey's remarks on post-retirement assignments for retired judges, Katju said the post of the Chairman of the Press Council has by convention been given to a retired judge of the Supreme Court.
"There are many judges who have been given post-retirement posts," he said, adding that Justice J S Verma, Justice Swatantra Kumar and Justice D K Jain had been appointed as chairmen of the National Human Rights Commission, National Green Tribunal and the Law Commission respectively.
"Why does Mr Jaitley forget the post-retirement appointments given by the NDA when he was the Law Minister?" Katju said.
He claimed at least two judges were transferred from their parent High Courts to the Rajasthan High Court "for reasons well known to Mr Jaitley and about which I do not wish to comment."
BJP chief spokesman Ravi Shankar Prasad said Katju's comments on Modi and Nitish Kumar were absolutely political and raised many questions.
"I regret to say that though we have the highest regard for a retired judge like Justice Markandeya Katju but while continuing as the Chairman of the Press Council he had repeatedly given indication as Shri Arun Jaitley has indicated that he is seeking to target non-Congress governments, be in Bihar, or Shri Narendra Modi in Gujarat or sometimes in Bengal," he said.