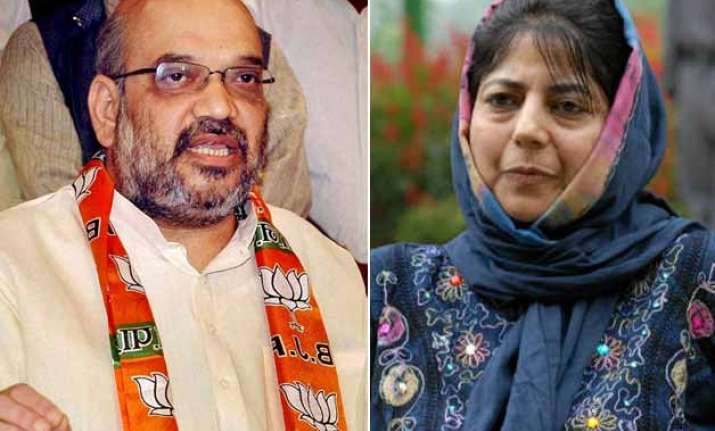 New Delhi: PDP chief Mehbooba Mufti is likely to meet BJP chief Amit Shah today in Delhi to finalise the common minimum programme between the two parties needed for formation of a 'stable' government in Jammu and Kashmir.
Sources said that PDP patron Mufti Mohammad Sayeed will be the new chief minister of Jammu and Kashmir two months after the assembly elections, as his party and the BJP finally arrived at an agreement on forming an alliance government in the state.
ALSO READ: J&K govt formation: Decks cleared for BJP-PDP alliance
Sayeed will soon meet Prime Minister Narendra Modi when the announcement on government formation is expected.
The main agreement has been reached on the draft of the common minimum programme on contentious issues like article 370, Armed Forces Special Powers Act (AFSPA) and the plight of West Pakistan refugees, sources told India TV last week.
Sources said that instead of accepting the PDP's demand that the AFSPA should be revoked from the entire state within a year, it has now been agreed by the two parties that a committee would be formed which would recommend gradual, but timely, revocation of the Act from areas in the state.
The PDP and BJP have also decided that that the problems faced by West Pakistan refugees should not be politicised and be treated as a humanitarian issue that needs to be addressed on humanitarian grounds. West Pakistan refugees are those over 25,000 families who came to the state after the India-Pakistan wars of 1947, 1965 and 1971.
On Article 370, the two sides have agreed to maintain status quo meaning no abrogation will be put in place, sources said.
The PDP had won 28 seats in the 87-member assembly, mostly from Kashmir. The BJP had bagged 25 seats from Jammu and Ladakh. The NC and Congress managed to get only 15 and 12 seats, respectively. Governor's rule was imposed in the state on January 9 after political parties failed to muster the requisite number in the House for staking claim to form government.