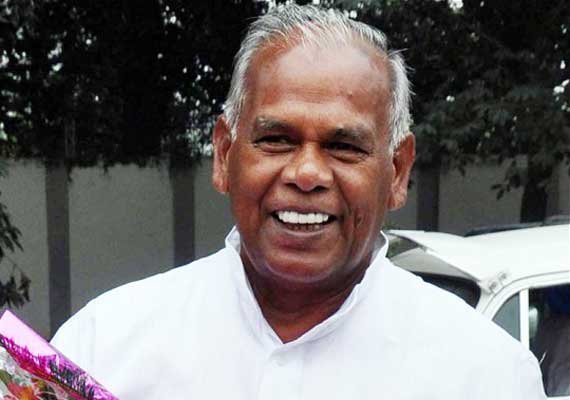 Patna/Gaya: Amid reports of growing distance between Jitan Ram Manjhi and Nitish Kumar, the Bihar Chief Minister today dismissed claims that he had any "difference" with his predecessor and blamed media for "triggering a controversy through wrong portrayal".
"Mere aur Nitish Kumar me Choli Daman ka saath hain (we are deeply attached to each other)," Manjhi told reporters on the sidelines of a function in Gaya.
Further seeking to play down the controversy, Manjhi said, "He (Kumar) is looking after party affairs and I am seeing work of the government."
Dismissing reports on "differences" between him and Kumar, Manjhi blamed media for triggering controversy through "wrong portrayal."
"One electronic media fudged report to show my wife saying she is performing Chhath so that I can get second term as chief minister...this is sheer lie and motivated news," Manjhi alleged.
The reports of "differences" between Kumar and Manjhi started doing the rounds after the CM made some remarks which indicated that he was keen on having a second term as chief minister after 2015 polls.
Though Kumar, who had handpicked Manjhi to succeed him after he stepped down in wake of JD(U) debacle in general election, has not uttered a word on the issue, some events which he skipped and where Manjhi was present gave rise to the speculations.
Kumar had recently called a meeting of party MPs and MLAs over his "Samparak Yatra" but Manjhi was not present.
Opposition BJP has grabbed the issue to attack Kumar and JD(U). Senior BJP leaders Sushil Kumar Modi and Nand Kishore Yadav have been alleging that all was not well between Manjhi and Kumar and this was having an adverse impact on the running of the administration.
In response, state minister and senior JD(U) leader Shyam Rajak attributed BJP's accusation to "cover up inner fight" within the saffron party.
"To cover up inner fight within BJP their leaders are peeping into house of others," Rajak said.  Meanwhile, dismissing senior BJP leader and former Union Minister C P Thakur's recent invitation to Manjhi and Kumar to join the BJP, Manjhi said BJP was a "communal" party whereas JD(U) is a secular organisation.
Ridiculing the offer, JD(U) President Sharad Yadav said Thakur should first state his status in the saffron party.  Yadav met some state ministers today and later went to Kumar's residence where the latter is holding meeting with JD(U) district chiefs in connection with his "Samparak Yatra" from November 13.
Ministers Rajiv Ranjan Lallan, P K Shahi and Narendra Narayan Yadav besides state party chief, Basistha Narayan Singh were among others who met Yadav at the state guest house.