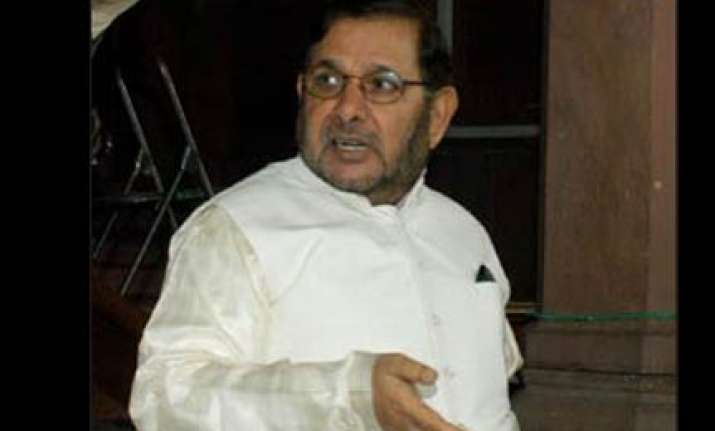 Giving clear indications of its opposition to Narendra Modi and Varun Gandhi campaigning in Bihar for the upcoming assembly elections, the Janata Dal-United said on Sunday that the "old arrangement will continue both in seat sharing as well election campaign."
"The arrangement between the Bharatiya Janata Party and the JD-U during previous assembly election will continue even in this election in the matter of seat sharing. Regarding campaign also, the old arrangement is applicable," JD-U president Sharad Yadav told journalists after the conclusion of the two-day national executive of the party in New Delhi.
He was responding to questions whether the JD-U had any objections to Narendra Modi campaigning in the state for the assembly elections.
Modi had not campaigned for the National Democratic Alliance in Bihar in any election after the Godhra riots of 2002. JD-U, which has been consistently making attempts to woo Muslim electorates in the state, had strongly opposed to Modi's coming to Bihar for even Lok Sabha election campaign in 2009.
Asked to specify whether he is ruling out the possibility of Modi campaigning there, Yadav said he has made the position "very clear and there are better ways to say anything".
To a query on whether the party will prevent BJP MP Varun Gandhi, who had raked up a controversy with his hate speech during last Lok Sabha election, from campaigning in Bihar, Yadav shot back, "who is Varun Gandhi."
Sources said that Bihar Chief Minister Nitish Kumar, in his concluding speech during the meet on Sunday, also said the election arrangement for the BJP and the JD-U in Bihar will be a continuance of the past both in number of seats to be contested by each party as well as election campaign strategy.
Kumar also justified his returning the flood relief money given by Gujarat government for Kosi in June this year in wake of the controversy over newspaper advertisements lauding Gujarat's liberal help for flood victims of Bihar and posters showing Kumar sharing dais with Modi, they said.
Reaching out to Muslims, the JD(U) had also sought a sub-plan for Muslims on lines of the tribal sub-plan to provide a dedicated fund for areas dominated by the community.
It also sought implementation of Rangnath Mishra Commission report, which has recommended reservation for Muslims as well as Scheduled Caste status to Dalits among Christians and Muslims, to which the BJP is strongly opposed.
Yadav, however, downplayed differences between the two parties saying, "our alliance is very old. It will continue".
The party passed a total of six resolutions in the last two days on political, centre-state relationship, corruption, foreign policy, achievements of the alliance government in last five years and the last seeking special state category for Bihar.