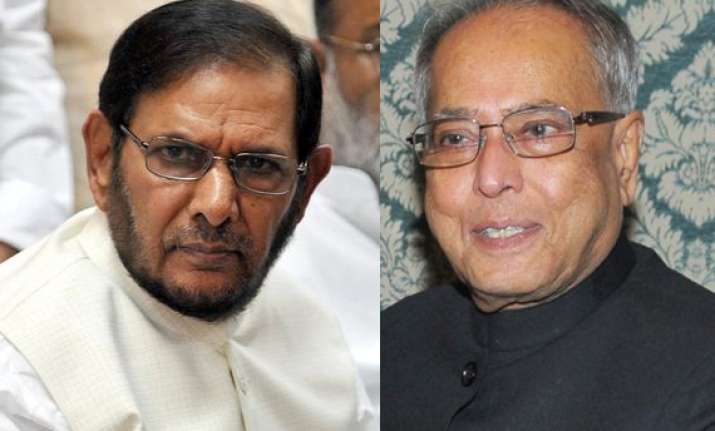 New Delhi, Jun 28: Even as JD-U backed Pranab Mukherjee's candidature for the President's post, party chief Sharad Yadav today denied any rift in NDA, saying that JD-U's support was for the next President and not for UPA.  
He also said the fact that nobody from JD-U or Left parties was present when Mukherjee filed his nomination made it clear that there was "no divide in NDA or Left" while parties may have decided differently on the issue of Presidential election.
"Our support for UPA's Presidential nominee is not support to UPA or its policies. We are against UPA's policies, which have pushed the country to the brink of ruin. There is no divide in the Opposition on this main issue," Yadav, who also NDA Convernor, said.
The JD-U chief also pointed to two previous 'Bharat Bandhs' on the issue of petrol price hikes this year and in 2010 in which parties from the Left and the Right had organised
protests on the same day.
Yadav was a key force behind the Opposition unity during those bandhs.
UPA was keen that some representative from JD-U and CPI-M also attend the nomination filing by 77-year-old Mukherjee. A number of ministers had also urged Yadav in particular to be present during the event. CPI-M General Secretary Prakash Karat was also requested to attend it.
"It was a tactical absence to clear the misgivings that there is any cosying up to Congress or UPA by us," an Opposition leader said.
While JD-U and Shiv Sena from the NDA camp have supported Mukherjee with BJP and Akali Dal choosing to back P A Sangma, division over the issue were also apparent in the Left.  CPI-M and Forward Bloc have decided to back Mukherjee's candidature while CPI and RSP have decided to abstain.
Till yesterday some UPA leaders were hopeful that there will be some representation from Opposition parties backing Mukherjee's candidature during filing of nomination by him. 
Mukherjee had gone to meet the JD-U chief at his residence yesterday. Sources say that the some Congress ministers had urged Yadav to be present when Mukherjee filed his nomination.
"This is totally wrong" Yadav said when asked whether his party was gravitating towards Congress and UPA.  He said that his party was in favour of a consensus on the issue of Presidential election and backed Mukherjee as he is set to win.
He said that had efforts been made in time by UPA, even BJP might have agreed for a consensus as Presidential election is not like Parliamentary and Assembly polls, where it has to be a fight among political parties.
Apparently suggesting that there is a rift in UPA, Yadav said that there was no
representation from Mamata Banerjee's Trinamool Congress, a UPA ally, during nomination filing exercise by Mukherjee.
Trinamool Congress has so far not taken a position on backing Mukherjee despite a renewed appeal for it by the UPA nominee today.