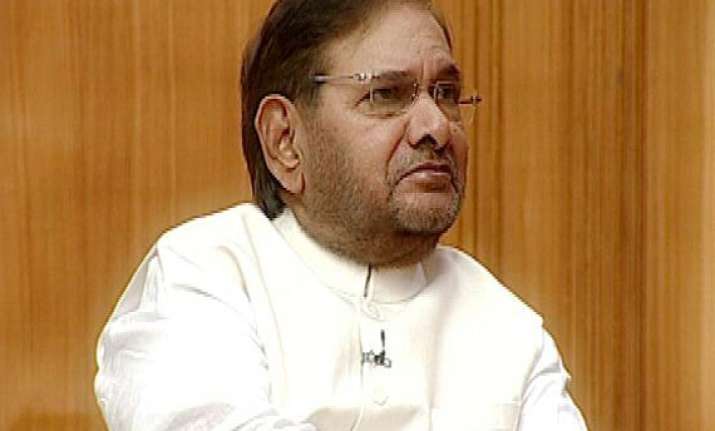 New Delhi:  Blaming Congress and BJP for the impasse in Parliament, JD (U) today made a strong pitch for smooth functioning of both Houses, asking the two national parties to sit together and resolve the deadlock.
"Parliament is not running because of Congress and BJP. Other parties raised their issues for a while but they do not want to block the functioning of Parliament. The two national parties are not serious to run the House.
"Instead of meeting everybody else, what is really required is that the two parties sit together and resolve the issue," party president Sharad Yadav said.
Yadav's comments came soon after Parliamentary Affairs Minister Kamal Nath had a telephonic conversation with him on the issue of Parliament's functioning, as the disruptions in Lok Sabha has taken a toll on the government's intent to pass the Food Security bill.
During the talk, Nath is learnt to have said that there is a view that if Parliament does not run, it's better to adjourn it sine die.
Sources said that Government has indicated that it is not in a mood to accept the BJP's demand for a reply by Prime Minister Manmohan Singh on the issue of the missing files of coal block allocation.
Yadav wondered "what is strategy of the BJP on this matter? In Rajya Sabha, Coal Minister Sriprakash Jaiswal made a statement. In Lok Sabha, they (BJP) want a statement by the Prime Minister. The last session was washed as the BJP was rigid that the Prime Minister should resign. This time they are insisting for a reply by him.
"Coal Minister on the other hand says that files have gone missing and then assures they will be traced. He was the custodian of the files as he was the concerned minister. If the files, under his custody went missing, who will now trust him that he will get them back," he said.
Minister of State for Parliamentary Affairs Rajiv Shukla feigned ignorance about any plan to adjourn the session sine die. He said that the government would try its best to pass the Food Security bill in this session.
"All the political parties should come forward in passage of this people-oriented bill. They can keep raising their issues but a smooth passage should be provided to this key bill, which aims at giving food security to 67 per cent of the population," he said.