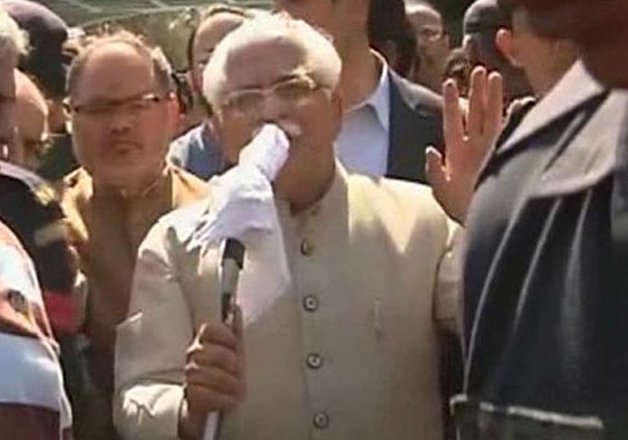 Rohtak/Chandigarh: Haryana Chief Minister Manohar Lal Khattar was heckled by angry crowd today when he visited Rohtak, the epicentre of Jat agitation, even as he assured that strict action would be taken against who caused damage to public and private property.
As soon as he reached Rohtak, the Chief Minister's car was gheraoed by angry people who raised slogans like 'Haryana Police murdabad' to protest the state police's alleged failure in controlling the violent situation.
Khattar was also shown black flags and was even heckled by the crowd. People also hooted against Khattar and demanded strict action against people who took the city to ransom.
Addressing the people demanding strict action against "looters", Khattar assured them that strictest action possible will be taken against those who set shops and commercial establishments on fire and caused damage to private property.
Rohtak, which was the epicenter of the Jat stir, saw massive damage to private property belonging to non-Jats. In the city to review the situation, Khattar said the state government will give full compensation to those persons whose property was damaged during the Jat agitation.
He said the state government would also give jobs to affected families of those who are poor and economically backward. The first time MLA said the state government would also take strict action against those officers be it from district administration or police department for dereliction in duty.
"State government will take action against those government and police officers who made any lapse in performing their duty," he further said.
He also assured the people that the government would take action against people who burnt shops and commercial establishments.
HC seeks status report on Jat agitation
Meanwhile, the Punjab and Haryana High Court today asked the Haryana government to file a status report by Monday on the Jat agitation which has claimed 19 lives and caused extensive damage to public and private property.
A division bench comprising justices SK Mittal and HS Sidhu gave the directions to the state's Advocate General BR Mahajan on a PIL filed by Bhiwani resident Murari Lal Gupta. The petitioner alleged that there is no law and order situation in the whole of Haryana particularly Rohtak, Bhiwani and Jind districts.
He submitted that the "whole of Rohtak has been converted into ashes" due to acts of arson, violence and vandalism. The bench hoped that the people of Haryana will understand the situation and keep calm. The court said that all political parties and their leaders should think about the welfare of people.
With PTI Inputs