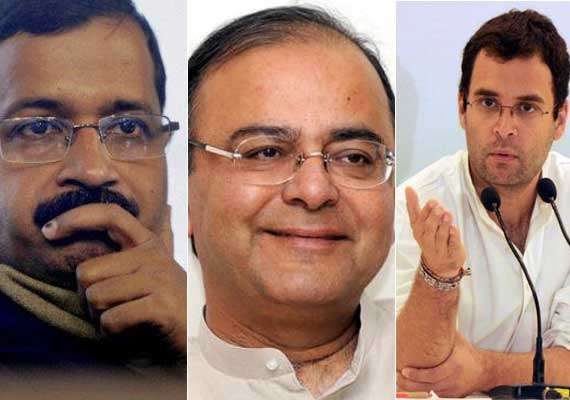 New Delhi: Describing Aam Aadmi Party's manner of protest as "unacceptable", BJP today said the party would not appeal to Lok Sabha voters as it is anarchic and lacks the qualities required for providing much-needed political stability and responsible governance.
In a signed article, Leader of the Opposition in Rajya Sabha
Arun Jaitley
said the political developments of the last few days are encouraging for the BJP. He claimed that the performance of Congress-led UPA is shaky and non-inspirational while AAP's conduct in the last week belied hopes in some sections that it would be able to obstruct BJP's growth.
"A failed Congress, an anarchic AAP, a non-existent Third Front will all contribute to the BJP and Narendra Modi surge," he said.
He predicted that the next Lok Sabha elections would be "quasi-presidential"- alluding to a Modi versus
Rahul Gandhi
contest- and this would help BJP and its prime ministerial candidate.
He attacked AAP, whose stellar performance in the Delhi elections and consequent growth have apparently caused a lot of worry in BJP ahead of the Lok Sabha elections, saying it has exhibited "unacceptable and irresponsible" behaviour.
"Non-transfer of an SHO could lead this party to obstruct the Republic Day celebrations. The Congress Party was all at sea as to how to deal with the AAP. It was willing to criticise but unwilling to strike. Eventually, it offered a weak lifeline which AAP accepted," Jaitley said.
He underlined that AAP's behaviour and Congress "capitulation" will further emphasise the need for a party which can provide a stable government.
"Can India afford a government whose nucleus is extremely small and which comprises innumerable disparate groups? The answer will lead to the irresistible conclusion that India needs responsible governance, political stability and a regenerated economic growth," he said.
BJP maintained that since AAP and Congress are not in a position to satisfy these conditions it would give the main opposition an added advantage in the Lok Sabha polls