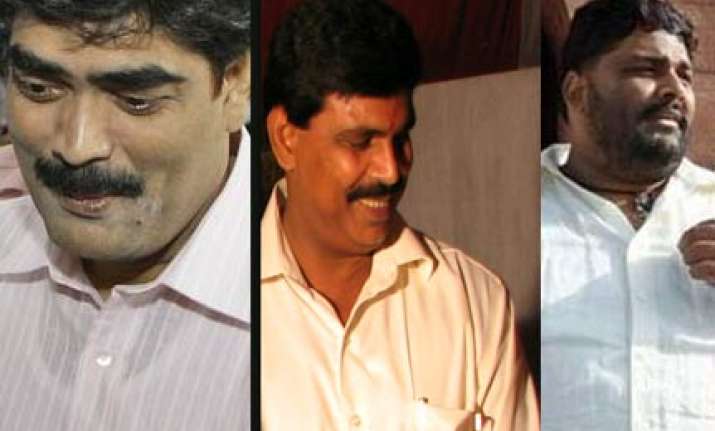 PATNA: With elections in Bihar round the corner, former MPs and 'political dons' — Mohammed Shahabuddin, Anand Mohan Singh and Rajesh Ranjan alias Pappu Yadav have decided to field their wives, reports Times of India.  
Shahabuddin's wife, Heena Shahab, is contesting from Siwan on RJD's ticket, while Anand's wife and former MP Lovely Singh is being fielded from Alamnagar in Madhepura district. Pappu Yadav's wife and former MP Ranjit Ranjan will be contesting from Bihariganj. Singh and Ranjan are Congress candidates.The trio's stock suddenly shot up as the cutting edge of CM Nitish Kumar's development agenda started losing sheen.
Speculation was rife that Nitish was trying to woo Shahabuddin and also visited Anand's ancestral village on a social call and met his close relatives.  
Soon, Nitish inducted former Union minister and another strong-arm specialist from the Kosi belt, Mohammed Taslimuddin, into the JD(U). RJD also wooed Anand and Lalu called on Shahabuddin at Siwan jail.
The result: Anand and Pappu came out into the open for the Congress. Nitish's development plank might not have failed, but the charge against him is that he couldn't take it forward.  
Former Patna University professor N K Choudhary, explained, ''The unique feature of the people of Bihar is that they support large issues and abandon minor issues, but the development agenda of Nitish Kumar just lost its way somewhere midway. So, minor irritants of public life have come back into play.''Congress leaders refused to comment. One of them said, ''They are famous in their own fields.''  
The BJP-JD(U) combine sounded optimistic. ''In our fold, they will get purified. If they do anything wrong, the law will catch up with them,'' said a leader. State RJD chief Abdul Bari Siddiqui accused Nitish of "targeting" people like Shahabuddin, Anand and Pappu through speedy trial.
 ''For our party and Muslims of districts like Siwan, Shahabuddin is a victim. They have sympathy for him. The head of any political party consults its party workers. That is how Shahabuddin is important to us and our party.''