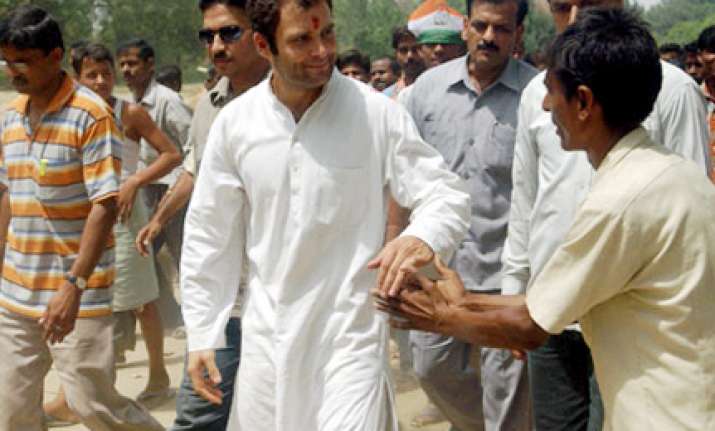 Taking a dig at politicians questioning his visit to villages and Dalit homes, Congress leader Rahul Gandhi on Friday in Firozabad said he tours rural areas as he knows the "real strength" of India lies there.
The Congress general secretary also said if the country has to progress, the "two Indias" -- one of the affluent and the other of the poor and backward -- should become one.
"Big opposition leaders often question that why I visit villages and eat with Dalits and farmers. They ask what had happened to Rahul Gandhi. But I know that the real strength of the country lies in the poor, Dalits, farmers and labourers," he said at an election meeting here in support of party candidate Raj Babbar for the Lok Sabha bypolls.
BSP chief Mayawati has been criticising Rahul's visits to Dalit homes, dubbing them as political stunts.
Rahul said his objective was to take the poor, farmers, Dalits and labourers class forward.
"Today, there are two types of India. One is that of the affluent class, rich people and airconditioner and the second one (is) of the poor, backward, Dalits, tribals, farmers and labourers. I know that if the country has to progress, it should be one India," he said.
He said that during a recent visit, a young British Minister asked him that why India was progressing.
"I told him that if you want to know the reason behind the country's progress, you should leave Delhi and visit the villages," he said.
Rahul said that on his invitation, the minister visited a village in Uttar Pradesh and interacted with the farmers, labourers and women and ate and slept in their hutments.
He was referring to British Foreign Secretary David Miliband's January trip to India during which he, along with Rahul, stayed at a Dalit hut in Simara village of UP.
 "When he woke up next morning, the minister said that he had come to India several times, but this was the first time he saw the real strength of the country," he said.
He said that even the British minister realised that the country's real strength in not in the cities and big people, but in the villages and the poor.
 "A Britisher realised the fact in one day, but when I read next day's newspapers, the opposition leaders were still asking that why Rahul took a British minister to villages and why I was showing him the poverty," Rahul said.
"I want to tell that I did not take the British minister to show the poverty, but to make him realise the real strength of the country," he added.
He said that in the last election, people had written off the Congress and said it will not get a single seat in UP.
"Those who wrote off the party were surprised with the results. Now they say that it was due to Rahul's work. But I would like to clarify that it was not my work, but that of the youths of the UP," he said. PTI