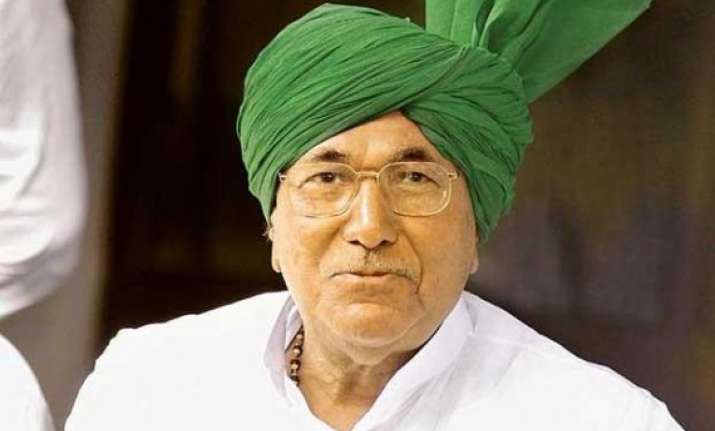 Chandigarh: Under attack for campaigning in Haryana polls while out on bail on health grounds, senior INLD leader Om Parkash Chautala today said he decided to "ignore" medical advice to rid the state of "corrupt" Congress.  
"My health is not permitting, but just to ensure that people of Haryana get rid of the corrupt Congress government and elect their own INLD government, I am canvassing," he said.
Chautala was addressing a series of election meetings in Karnal, Yamunanagar, Kurukshetra, Ambala and Panchkula districts for the October 15 Assembly elections.  He campaigned even as CBI moved Delhi High Court seeking immediate cancellation of his bail on medical grounds, saying he has violated its terms by participating in rallies. The 79-year-old leader, who suffers from heart and other ailments, is currently on bail on health grounds after his sentencing last year in a teachers' recruitment scam.  
Chautala said, "A team of doctors have advised me complete bed rest, but how can I leave you in lurch when it is the only time to get rid of the corrupt, anti-farmer and anti-youth Bhupinder Singh Hooda-led state government.  "That is why I decided to come to you to remind you that let us drive the last nail in the coffin of this government by ensuring its ouster from the state."
Chautala, who is engaged in hectic electioneering for the past two weeks, came under sharp attack from Prime Minister Narendra Modi and Chief Minister Bhupinder Singh Hooda after he recently said that he will take oath from Tihar Jail as the state's next Chief Minister of Haryana.  "I can sacrifice my health and my life for the people of Haryana as our ideologue late Chaudhary Devi Lal did it throughout his life," he said.
"I want to make one thing clear that we (INLD) are not power hungry. We do not want to grab power. Our mission is to fulfil the dreams and vision of Devi Lal. We are also seeking votes for the performance of our government when we were in power," Chautala said.
INLD, which has been out of power for the past 10 years, is fighting on 88 seats, while two seats are being fought by its ally SAD.