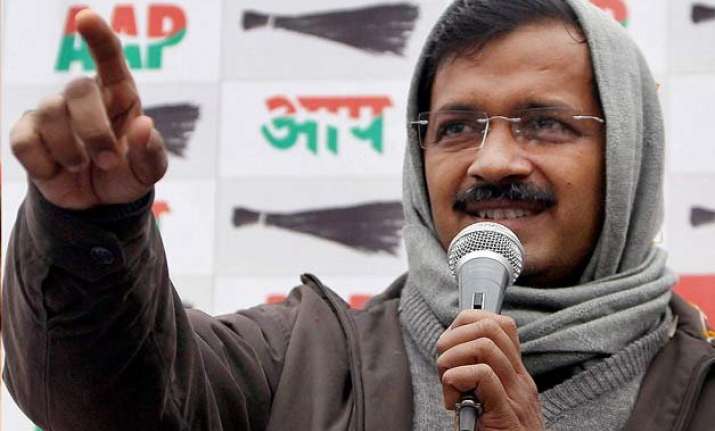 New Delhi: Blaming BJP for the financial crisis in municipal corporations run by it, Chief Minister Arvind Kejriwal today asked the party to resign and hand over charge to AAP to turnover the situation in a year.  
"If BJP-led corporations cannot pay salary to their staff then they should resign and let AAP run it. We will change the financial condition within a year and bring it into profit," Kejriwal said in Delhi Assembly.
Last week, the mayors of the three civic agencies had met Kejriwal seeking Rs 302 crore. "When we left the government last year it was in profit but in last one year it was under central government and now revenue is short of Rs 4,500 crore.  
Similarly, the BJP-led civic agencies are in loss. BJP jaha haath laga deti hai, waha ghaata ho jaata hai (wherever BJP involves itself, they incur losses)," he said.  The Chief Minister alleged the corporations are sealing shops in Delhi in the name of collecting conversion charges.  
"Everybody talks about giving environment for 'ease of doing business'. But the civic agencies are sealing shops on the pretext of collecting conversion tax. If you will close their shop then how will they do their business and pay taxes.  The civic agencies needs to end corruption to make it successfully run," he said.
The AAP government claimed it has stopped routine raids on traders. "During our last tenure we stopped raid on traders so they voted for us. Similarly this year we have ordered to carry out raids only on specific information otherwise no routine raids will be carried out," Kejriwal said.  
The government also proposed to make an information network of businessmen. "Soon there will be no need for traders and businessmen to visit government offices. We are planning to make a pool of data about their businesses and licenses. They will be called to government offices only if they have evaded payment of taxes," Kejriwal said.  He appealed to traders to pay their taxes and assured them that all the money will be utilised for development of the city.
"Traders were reluctant to pay taxes but they used to do charity fearing that corrupt officers will misuse the money.  But I promise that your money will be used for development of the city. I appeal to traders to pay their taxes as they contribute for patriotic and religious purposes," Kejriwal said.
The AAP government also directed Delhi Jal Board to ensure equal distribution of water even in case of any shortage.
"Before the poll, Haryana government was supplying us water but soon after the exit poll they have stopped their supply. There should be no politics over water. So this year if there is any shortage, then DJB should equally supply it in the city. Water supply shortage will be faced by all the VIPs starting from me. Only Prime Minister, President, Embassies and emergency services will be exempted," Kejriwal said.  
In order to increase the revenue of the city, Kejriwal demanded that Delhi's share from central taxes be increased.  "Delhi contributed Rs 65,000 crore from income and service taxes to the Centre but in return we got only Rs 325 crore. This is wrong. If the central government increases our share then we will be able to return more. With more share we will open new industries and create employment and will finally contribute to economy. At least give 10 per cent of what we contribute," he said.
Kejriwal blamed the central government for not giving Rs 600 crore, which it was supposed to transfer to municipal corporations.
Kejriwal supported the proposal given by MLA Alka Lamba in the assembly to make a representation to the central government along with all the seven members of Parliament, MLAs and councilors of the city to seek funds for development.