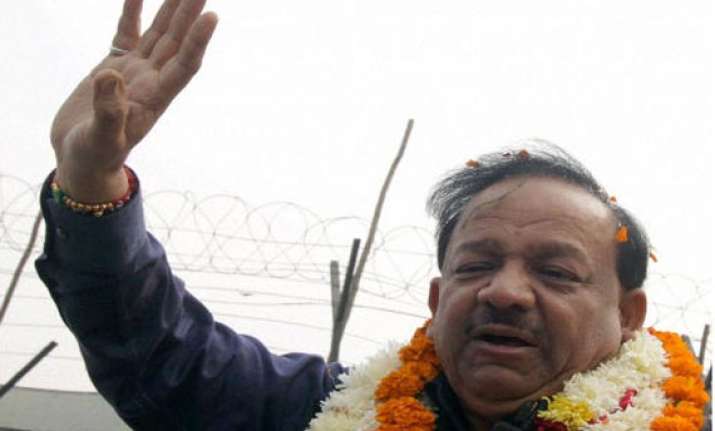 New Delhi: Newly-appointed Delhi BJP chief Harsh Vardhan today vowed to work with a "killer instinct" to ensure the party's victory and focus on exposing Congress's alleged corruption and AAP's "anarchist" agenda.
59-year-old Vardhan said he will foremost try to rejuvenate the party cadres and launch an aggressive campaign against AAP and Congress in the run up to Lok Sabha polls,     
"My main focus would be to ensure BJP's victory in all the seven Lok Sabha seats. I will try my best to bring enthusiasm among party workers so that we can put up an aggressive fight in LS polls," Vardhan, who was BJP's chief ministerial candidate in assembly polls last year, told PTI. 
"The party will expose Congress's corruption and AAP's anarchist agenda. BJP is ready to face the electorate in Lok Sabha elections and we will put in all our efforts to win the hearts of Delhiites," Vardhan said.
He also indicated making organisational changes in BJP's Delhi unit. Asked whether he was happy about the new assignment, Vardhan said he would try his best to live up to the expectation of party's central leadership.
"Its a huge responsibility and I will try my best to ensure BJP's victory in all the seats," he said.     
He will hold the dual charge of leader of the opposition and party chief against the party's 'one-man-one-post' principle.
In late 2003, Vardhan was appointed as president of Delhi BJP. He is credited with rebuilding the party at the grassroot level after the party's defeat in assembly polls that year.
Fondly called "Doctor Saab" by supporters and opponents alike, Vardhan is known for his efforts in eradicating polio in Delhi when he was the Health Minister.
Vardhan, known for his simplicity and amiable leadership style, is admired by many leaders belonging to various political parties.
Recognising his leadership qualities, Vardhan, who hails from Baniya community, was given presidentship of Delhi BJP for three terms between 2003 and 2008.
In April 2007, the party recaptured power in the Municipal Corporation of Delhi and in 2008, the party emerged victorious in the Delhi Cantonment Board election under his leadership.