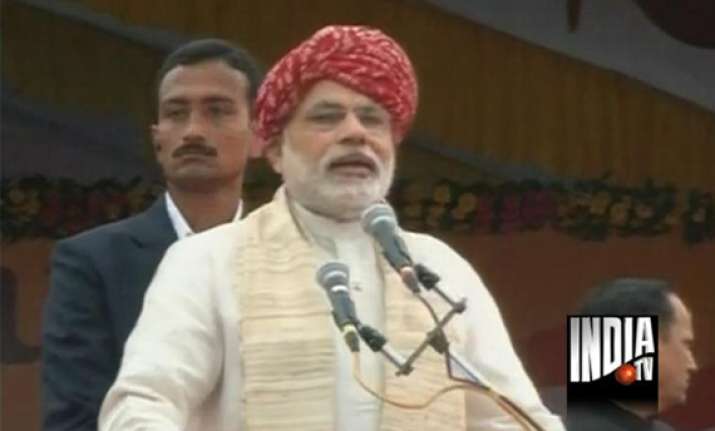 Bhuj, Gujarat: Gujarat chief minister Narendra Modi in his Independence Day speech at the Lalan College grounds here today,  lashed out at the UPA government on issues of corruption.
"We recently saw the Maama-bhanja serial (referring to former Railway Minister P K Bansal and his nephew), and are currently watching Saas-bahu-daamad serial (referring to Sonia Gandhi and Robert Vadra)", said Modi.
The nation, he said, wants deliverance from "bhai-bhateejavad" (nepotism) and "parivaarvaad" (dynastic politics).
Modi said, I thought the Prime Minister would make a strong statement against Pakistan from the Red Fort, but that did not happen.
"Of course, I don't think Red Fort should be used as a platform to challenge Pakistan, but Red Fort is the prime symbol of a soldier's inspiration", Modi said.
"Out President (Pranab Mukherjee) yesterday referred to Pakistan saying there is a limit to our patience. I was hoping a strong statement from our PM, but that did not happen", the BJP's aspirant for PM post said.
"China crossed our borders, Italy killed our fishermen and Pakistan killed our soldiers. Why should the people of India bear all this?", asked Modi.
"Not only me, but the whole nation would have been dismayed by the Prime Minister's speech today", the Gujarat chief minister said.
Following are some major pointers from Modi's speech:
--Mr PM you can mention Nehruji, Indiraji,Rajivji, what is stopping you from mentioning Lal Bahadur Shastri in your speech.
--Dear PM you mentioned same things which Nehru ji said back then. Nothing has changed in last 60 years?.  
--I challenge the PM to an open debate on all key issues
--Gharibon ki thaali mein sarkaar acid chhirak rahi hai.
--Dear PM,your brigade is busy abusing Modi on their computers, don't have time to sing the national anthem or national song.
--Media channels said this is PM Manmohan Singh's last speech from Red Fort but he said he has miles to go, which rocket will he take?.
--I have never said Gujarat progressed because of Modi Govt, it
progressed because of 6 crore Gujaratis
--We remember all the great freedom fighters who sacrificed their lives for our freedom, those who spent lives in jails
--Gujarat's Mahatma Gandhi and Sardar Patel emerged as the messiahs of human freedom. We should be proud
--But we are mentally, still slaves, for the last 60 years we have been hearing the same things again and again, we are tired
--When the party in power itself stalls parliament and creates uproar in the house then its a bad sign for democracy
--I am speaking near the border so that my words reach Pakistan first, then Delhi.