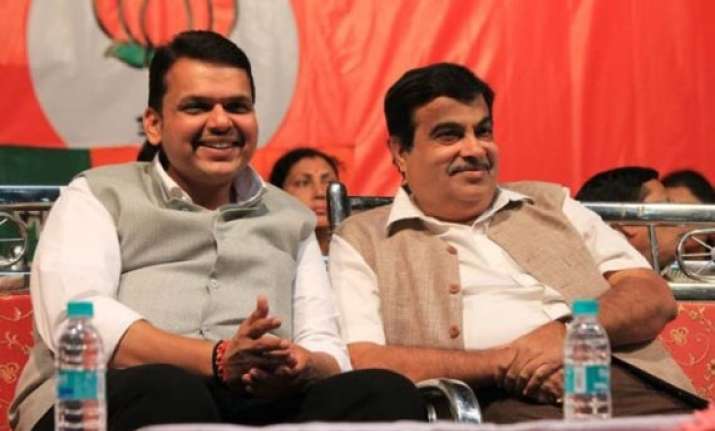 Nagpur: Amidst calls by several BJP MLAs in Maharashtra for Union minister Nitin Gadkari to be made the state's chief minister, the senior leader today said he was happy working at the Centre.
"I am happy in Delhi," Gadkari told reporters here when asked whether he intends to return to state politics.
Gadkari's comment came after Maharashtra BJP president Devendra Fadnavis, considered to be the front-runner for the post of chief minister, today visited him at his residence in the Mahal area of the city to wish him on Diwali.
The visit, described as a courtesy call by Fadnavis, lasted for about half-an-hour, according to sources.  After the meeting, the Union Transport and Shipping Minister told reporters, "Fadnavis is my colleague and came to meet me on Diwali."
However, what transpired during the meeting of the two leaders was not known.
Gadkari had earlier clarified his stand about not returning to state politics, saying it was for the the BJP's central leadership to decide and that he would accept any responsibility given to him by the party.
Party sources said that the central leadership favours Fadnavis for the top post.
Fadnavis, who was accompanied by city Mayor Pravin Datke, declined to comment on his meeting with Gadkari. He had also remained tight-lipped yesterday when PTI contacted him for his comments on the Vidarbha MLAs supporting Gadkari for the chief minister's post.
A group of 39 newly-elected BJP MLAs from Vidarbha region had met Gadkari here on Tuesday and pushed for him to be made the Maharashtra chief minister.
Nagpur-East MLA Krishna Khopde had yesterday offered to quit and vacate his seat to pave the way for his mentor Gadkari. Later, two more MLAs—Sudhakar Kolhe (Nagur-South) and Sameer Meghe (Hingana) -- too, offered to resign from their respective seats for the Union minister.
Also, five independent MLAs—Vinayak Patil (Ahmednagar), Shirish Choudhary (Amalner), Ganpat Gaikwad (Kalyan-East), Mahesh Landge (Bhosari) and Ravi Rane (Badnera) -- yesterday met Gadkari and Fadnavis separately to offer their support if the chief minister is chosen from the Vidarbha region.