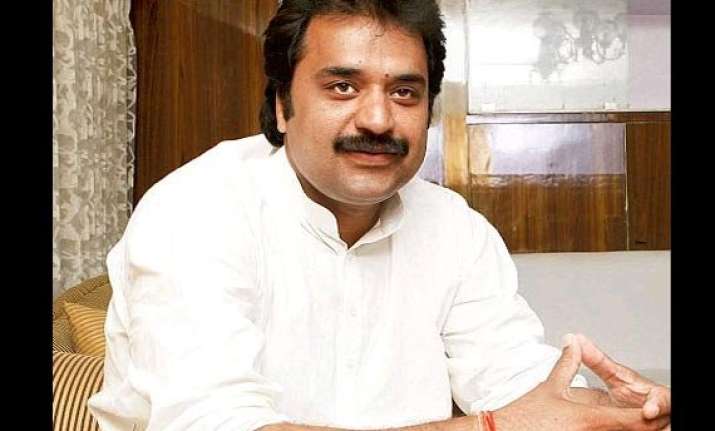 Chandigarh: After snapping ties with BJP and charging them of "repeated betrayal", HJC President Kuldeep Bishnoi, who is fighting the battle in alliance with Jan Chetna Party is hoping to reap rich electoral gains.  Bishnoi, the younger son of former Chief Minister late Bhajan Lal, had recently snapped ties with the BJP after the latter did not agree to give HJC 45 of the total 90 assembly seats besides projecting the HJC chief as Chief Ministerial candidate.
Bishnoi and two immediate members of his family have jumped into the electoral fray.
While Bishnoi is contesting from the family's pocket borough Adampur in Hisar, from where his wife Renuka was earlier an MLA, the latter is contesting this time from Hansi, where she is up against turncoat and BJP candidate Chattarpal.  In Adampur, which is considered a stronghold of the Bhajan Lal family, Bishnoi is locked in a contest with INLD's Kulveer Singh Beniwal, among others.  
Bishnoi's elder brother and former Haryana Deputy Chief Minister Chander Mohan, who had shot into limelight five years ago for converting to Islam and becoming Chand Mohammed to marry former state law officer Anuradha Bali alias Fiza Mohammed (who later passed away), is also contesting.  However, he had later re-converted.
Chander Mohan will contest from Nalwa in Hisar district this time and is up against Congress MLA Sampat Singh.  Last time he was fielded from Kalka-Panchkula area.  Former Union Minister Venod Sharma, who snapped his four-decade old association with the Congress to float his own Jan Chetna Party, is seeking re-election from Ambala City, where he is up against BJP's Aseem Goyal, among others.  After separating from BJP, Bishnoi forged an alliance with Sharma's party and are now jointly contesting the October 15 polls.
While the HJC is contesting 65 seats, 25 seats are being fought by the JCP.
Both Venod and Bishnoi exude confidence that the HJC-JCP alliance will get a "majority" on their own.  "There is a visible change, the people are fed up. People know that development during the Congress rule has remained restricted to Rohtak region. In Ambala City, as in many other parts of Haryana, lack of employment remains a big issue, everybody wants that there should be a uniform of policy in providing jobs.
"And who would not want it, I have favoured scrapping of the interview system, where the merit often gets ignored," Venod Sharma said adding, he wanted to bring an Industrial Model Township for Ambala, but that was scuttled.
Sharma believes he took the correct decision to float his own party despite there being many players in the field.  "My party and HJC are working as a team and we are confident that we will win," he said.
While Sharma has intensified poll campaign in Ambala and other parts, Bishnoi too is actively campaigning in Adampur and other parts of Haryana. Both the leaders have also addressed many joint rallies.
Bishnoi tells voters to oust Congress and teach BJP a lesson for "backstabbing" the HJC.
"We have suffered. The BJP only misleads people and speaks lies to garner votes. People of Hisar and Haryana will teach BJP a lesson. Their rallies in Karnal and Hisar, addressed by the Prime Minister, have remained super flop. BJP has no base of its own in Haryana, whatever little goodwill they gained was because they had allied with our party." "When we separated, people have realised their true colours," said Bishnoi.
"We will form the government with majority on our own," he tells voters.
He also hit out at the Om Prakash Chautala-led Indian National Lok Dal (INLD) and alleged the party of "looting" Haryana.
Despite some of their top leaders being behind bars for their various acts of omission and commission, the party is now again dreaming of coming to power, he said.  After parting ways with Congress in 2007, Bishnoi and Bhajan Lal had floated the Haryana Janhit Congress.  HJC contested its first assembly polls in 2009 and won six seats, including Bishnoi's victory, but five of the MLAs switched over to the Congress camp.
Bhajan Lal passed away in 2011. Although, Bishnoi won from the Hisar Lok Sabha seat in a bye-election in 2011, but he lost to INLD's Dushyant Chautala in this year's general elections.