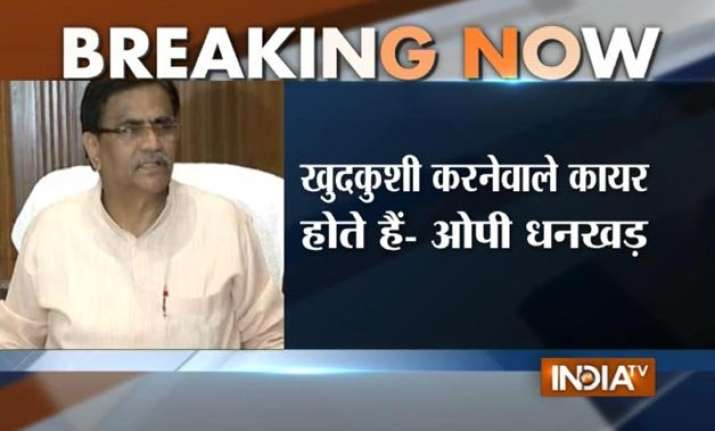 Chandigarh: A minister of Haryana government on Tuesday courted controversy after he said that farmers committing suicide are cowards and criminals under the law.
Agriculture Minister OP Dhankar told media here that the state government could not support farmers who were committing suicide.
He said that the farmers who were committing suicide were running away from their responsibilities and leaving their families and children with liabilities.
After a controversy erupted over his remarks, Dhankar called a press conference today to clarify his statement.
Clarifying his statement, Dhankar said "Haryana veeron ki bhumi hai. Haryana ki bhumi atmahatya karne walon ko sweekar nahi karti (Haryana is a land of brave people. The land of Haryana does not accept people who commit suicide."
"Suicide is a crime. According to Indian law, suicide is a crime. A person who commits suicide runs away from his responsibilities. Such people are cowards and the government cannot stand by such cowards or criminals," he added.
He added that according to Indian Penal Code, suicide is crime so it is not wrong to call them criminals.
Dhankar's remarks came at a time when the BJP-led NDA government at the Centre is facing severe criticism for making amendments to the Land Law formulated by erstwhile UPA government in 2013.
Dhankar, who earlier headed the Bharatiya Janata Party Kisan Cell, used to condemn the earlier UPA government for not doing much for farmers which was leading to increasing suicides.
On Monday, Haryana Chief Minister Manohar Lal Khattar had criticised the previous Congress government for being 'insensitive' to farmers. He had announced a compensation of Rs 1,092 crore for those who have suffered massive crop loss due to unseasonal rain and hailstorm.
(With inputs from agencies)