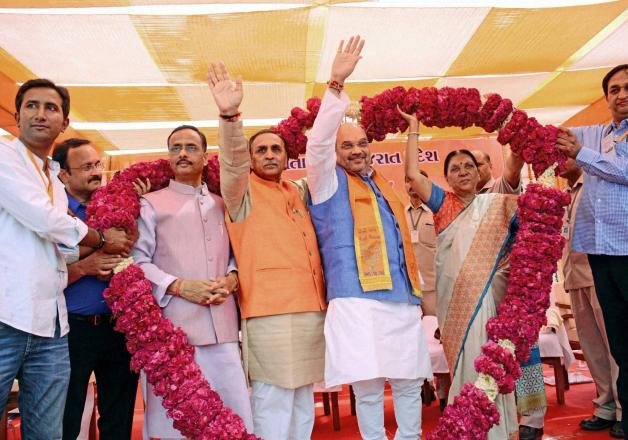 Ahmedabad: BJP national president Amit Shah on Saturday described Gujarat as a "fort of the BJP", asserting the party would form the government in the state after the 2017 assembly elections.
Shah, who arrived here for the first time after once again becoming the party's president, said the Bharatiya Janata Party's victory in the 2017 elections would "shatter the hopes of the opponents who are day-dreaming".
During his felicitation ceremony at Ahmedabad airport, Shah said: "Gujarat was, is and will remain a fort of BJP."
Without naming the opposition Congress, Shah said BJP's zealous workers have fanned out in every nook and cranny of the state and would prove wrong all those "who have been day-dreaming about change of power in Gujarat".
He said the party workers' target in the state was victory and they were ready to clear "any difficulties and thorns in the way".
Shah, however, did not elaborate on the difficulties that the party could face in the run up to the 2017 assembly elections.
"In 2017, the chants of 'long live BJP' and 'Bharat mata ki jai' would reverberate. We will win even more convincingly under the guidance of Narendrabhai (Modi) to serve the 6 crore Gujaratis again," he said, avoiding any reference to Chief Minister Anandiben Patel, who was present.
"The win won't be a full stop, but just a comma before an even better future of the state. We will celebrate even the golden jubilee of our win," he said.
Stating that the party was now ruling in 13 states and at the Centre where it was the first party to get absolute majority in 20 years, Shah said: "The party with the humble beginning as Jan Sangh in 1950 had never imagined it."
"This is not a political journey but a journey of ideology. Under the successful leadership of Narendrabhai our government is marching ahead for all-inclusive growth taking into account the poor, farmers, labourers, Dalits, tribals and other backward classes," Shah added.
He said of the last six assembly elections, the BJP had won four and formed a government in those states. "We lost only in Delhi and Bihar. But in Delhi, our percentage of votes did not diminish while in Bihar it even jumped up by a good margin," he said.
Shah, also a local BJP legislator from Naranpura constituency, was accorded a warm welcome on his arrival here.
Chief Minister Anandiben, her ministerial colleagues, state in-charge of the party Dinesh Sharma, national vice president Purushottam Rupala and other top state party leaders were present to receive him at the airport.
Newly appointed Gujarat BJP president Vijay Rupani was also felicitated in the presence of Shah.