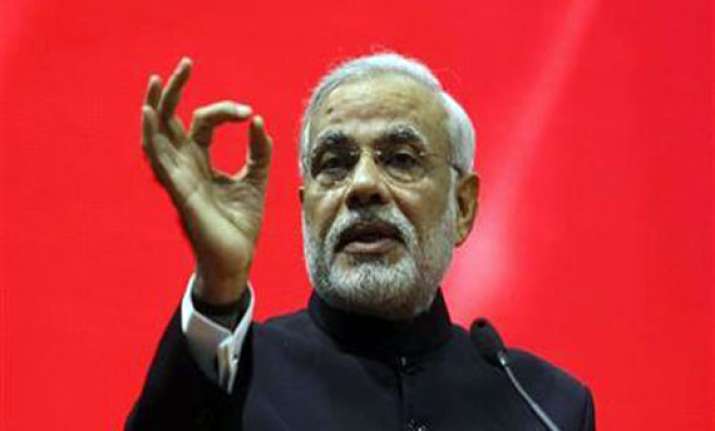 Ahmedabad, Feb 21: Gujarat Chief Minister Narendra Modi yesterday described his government's annual budget for financial year 2013-14 as a 'model of fiscal discipline' and expressed confidence that it will bring the state to new heights of development.
Commenting on the budget proposals presented in the state Assembly here yesterday, Modi attributed the "equitable development" and "prosperity", Gujarat has attained over the last ten years, to the fiscal discipline and suggested to compare Gujarat Budget with that of the Union Budget.
"If people who understand the language of plan and non-plan expenditures, compare the Gujarat Budget with the Union Budget, they will know that only 35 per cent of the total allocation in Union Budget goes for the development and 65 per cent is being spent on administration and implementation," he said in a release.
"However, Gujarat is the state where 65 per cent of budgeted amount is being spent for development and only 35 per cent is used in administration. This budget reflects the unique model of development," he added.
Claiming that this budget will show the world how the power of youth can be channelised for development, he said, "Ours is the youngest country in the world and this budget will show that how state can involve its youth in the process of development."
Terming the first budget of the new government as "ambitious," the Chief Minister said, "through this budget we want to ensure that Gujarat has a major share in the development of the country through 12th Five year plan."
Claiming that the budget is farsighted for "inclusive growth" of the state, he said, "this budget is touching upon every section of the society, connecting every section of our society and it is involving everyone in the process of development."
Reminding the promises his party had made before the Assembly elections, he claimed that in this budget his government has made plenty of provisions to fulfil them.
"This is the budget which will bring development of the state to the different heights, develop its cities and villages to a different level," he said, adding, "... we have introduced new schemes, keeping poor and neo-middle class of the state in the centre."
He also expressed confidence that, "the budget will accelerate the speed of development, enhance the quality of infrastructure facilities in the state, provide qualitative education and health facilities to the poorest of the people."