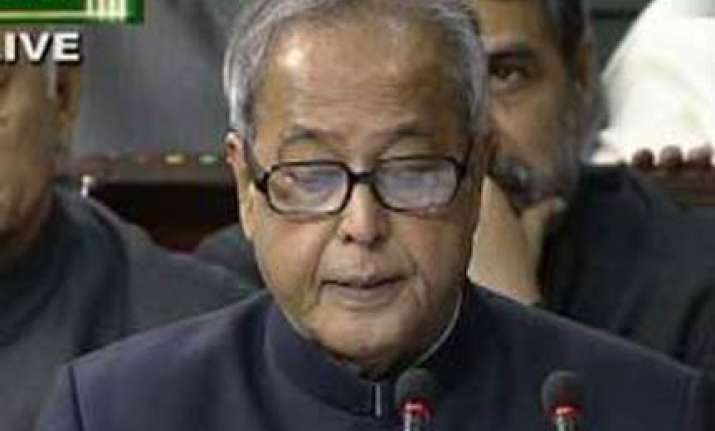 Finance Minister Pranab Mukherjee on Wednesday said that the government would talk to its allies on the issue of fuel price hike but gave enough hints that a rollback would be difficult.
Party sources said that Mukherjee briefed the Congress MPs about the salient features of the budget in the backdrop of the demands for a rollback in fuel prices and explained why reduction in the excise duty on petroleum products was difficult. 
The Finance Minister informed the Congress MPs about the challenges before the government in the current economic scenario.  Mukherjee is learnt to have told the MPs that since no new taxes have been imposed in the Budget and the government is expecting a GDP of 8.5 percent from 7.2 per cent in the outgoing financial year, some steps were required to mop up revenues. This was more so as the government plans to invest heavily in the social sector schemes, the sources said.
He also gave a comparative chart of the fuel price hike done under the UPA and the NDA respectively in which he explained that the rise in prices of petroleum products was far less during the UPA rule as compared to that of the NDA.  Mukherjee also told the MPs that the minimum support price for foodgrains was doubled under the UPA as compared to that under the NDA.
 Congress President Sonia Gandhi is expected to explain the party's position on the issue of rollback when she addresses a meeting of the Congress Parliamentary Party on Thursday.
Talking to reporters outside Parliament House, Union Minister Ambika Soni, who also attended the meeting, said "You have to create growth and for growth creation you need to pump in money".  She was asked whether the government is going to rollback the increase in excise duty on fuel. 
 Another party MP Jagdambika Pal said that petroleum prices were increased 33 times during NDA rule and stressed the need for economic reforms to achieve high GDP.
 "We will tolerate this burden and price rise will also not be allowed to hit people," he said.  Sources said the Finance Minister had also told the MPs that steps like increase in excise duty is required if higher growth rate is to be achieved. 
The Congress Core Group had grappled with the issue on Tuesday night and had apparently decided to back Prime Minister Manmohan Singh, who has indicated that rollback would not be possible.PTI