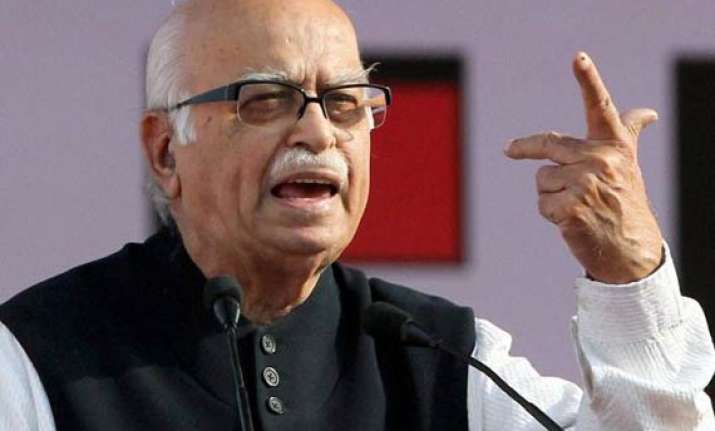 New Delhi, Feb 19: BJP leader L K Advani today alleged that Congress party has communalised the on-going Uttar Pradesh polls and this view was strengthened by the fact that statements made by Union Ministers Salman Kurshid and Beni Prasad Verma on sub-quota for minorities have been supported by Gandhis.

"Never before have the Congress Party or its leaders communalised an Assembly election as consciously and deliberately as it has done in Uttar Pradesh in 2012.

The Salman Khurshid episode is not the only instance to prove this point.

"Digvijay Singh's recent statement to the effect that the Batla House encounter with terrorists was a fake encounter has been yet another instance," Advani said in his blog. 

He expressed concern over the whole episode where Kurshid openly defied the Election Commission, forcing the poll panel to write a letter to the President of India. 

Later, Kurshid wrote a letter regretting his statement. 

Advani stated on his blog that in his public meeting during the election campaign he has asked Prime Minister Manmohan Singh to rein in his ministers and sack Kurshid. 

He goes on to say that while Kurshid continues in office, now Verma has spoken on similar lines and has been served a notice by the EC.

"If Varma also does something like what Khurshid has done, and escapes removal from the Ministry, then (Leader of Opposition in Rajya Sabha Arun) Jaitley's suspicion would be proved correct that these statements are not individual acts of defiance of a constitutional authority but part of a planned poll-oriented conspiracy by the party's poll managers. 

"It is significant that while the party formally distanced itself from Khurshid's utterances, the family did not. The family's youngest campaigner enthusiastically supported the Law Minister," Advani said.

  The BJP leader is alluding to Priyanka Vadra who appeared to be supporting Kurshid when she said the minister has spoken and EC can also put across its point.

Vadra had, however, toned down her views when Verma repeated the same promise to the people.  She had then said such statements do happen in the heat of election campaigning.

UPA Chairperson Sonia Gandhi and Congress General Secretary Rahul Gandhi have not spoken on the statements made by Kurshid and Verma on minority sub-quota. 

As per the Election Code of Conduct, a minister cannot make any financial grants or promises therof. 

Promising reservations to minorities within the OBC quota is tantamount to that, according to the EC observations.