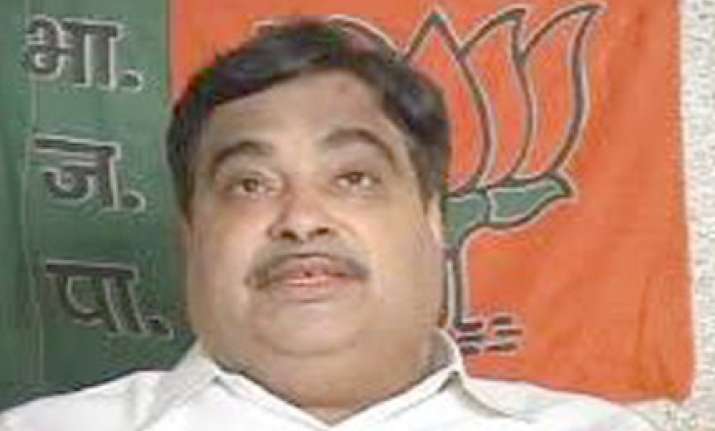 Nitin Gadkari appears set to become the next BJP President replacing Rajnath Singh in what is being projected as a generational change for the main opposition party.
52-year-old Gadkari's name has been zeroed-in on for the top job to revive the organisation after it suffered its second successive jolt in the Lok Sabha elections, party sources said on Sunday.
"Gadkari's name is final. He has been chosen by senior leader L K Advani after consultations with his party colleagues," a senior leader said.
Another indication of Gadkari's likely elevation came from reports from Mumbai which spoke of a race to occupy the post of Maharashtra BJP chief, at present being held by Gadkari who has made the party the main opposition in the state, replacing Shiv Sena.
The talk of Gadkari heading the party at the national level gained momentum after RSS chief Mohan Bhagwat made it clear that no one among the leaders in Delhi would be entrusted with the task. He specifically ruled out Arun Jaitley, Sushma Swaraj, M Venkaiah Naidu and Ananth Kumar.
Bhagwat is said to have named Gadkari and former Goa Chief Minister Manohar Parikkar as the probable candidates for the top post while the party is maintaining that the selection has been made by Advani.
Parikkar appears to have spoilt his chances by his alleged remark dubbing Advani as a "rancid pickle".
A formal election of the next president is expected by the year-end with election officer Thawar Chand Gehlot issuing the schedule after the organisational polls in the states.
Gadkari has been a member of the Maharashtra Legislative Council for several years and his work as PWD Minister in the Shiv Sena-BJP government had been appreciated for the number of flyovers in Mumbai, the Pune-Mumbai Expressway and beautification of Nagpur.
Gadkari hails from Nagpur, city that houses the RSS headquarters, and has been a prominent leader from Vidarbha.
The BJP leader, who is also an entrepreneur, is close to RSS which reportedly wanted an honest leader who has proved his mettle and one who has the drive and the ability to take everyone along.
Even before the Lok Sabha elections it was clear that Rajnath would not get a second term in spite of his attempts. He had taken over as party chief on December 31, 2005 in the wake of resignation of Advani who was embroiled in the M A Jinnah controversy.
While reports had it that Advani would quit as Leader of Opposition soon after the new president takes over, the RSS appears to be mainly interested in the organisational wing of the BJP and not the legislative wing.
Gadkari's chances were further bolstered as the party and RSS are not in favour of disturbing BJP Chief Ministers. If this criteria is followed it would leave out Gujarat Chief Minister Narendra Modi, Madhya Pradesh CM Shivraj Singh Chouhan and Chhattisgarh CM Raman Singh. PTI