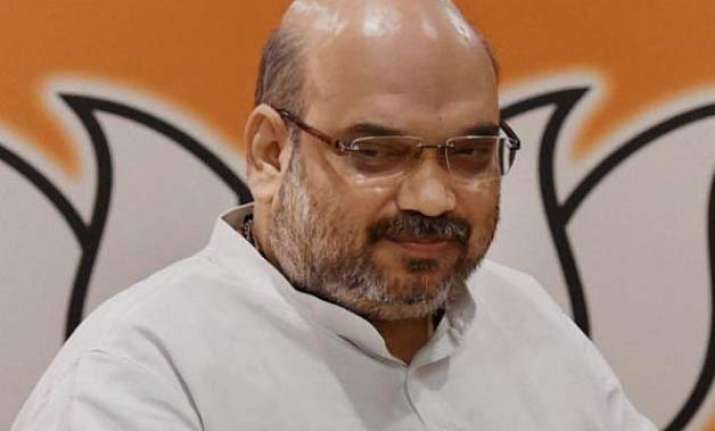 New Delhi: After its poll debacle in Delhi, BJP is taking no chances with regard to Bihar which is slated to go for Assembly elections in some months and is set to begin preparations there early.
Party President Amit Shah will embark on a two-day visit to the state from April 14 as part of efforts to reinvigorate its rank and file, sources said here today.
Shah will hold consultations with state party leaders there to devise strategies for the elections, seen as very crucial for BJP which used to be part of government in the state till over a year back.
The BJP chief will address a 'Karyakarta Sammelan' (workers' gathering) in Patna on April 14, on the occasion of Ambedkar Jayanti, the sources said. The day has been chosen keeping in mind the huge chunk of dalit voters in the state.
Assembly polls in Bihar are slated in October-November this year and BJP for the first time ever is aiming to wrest power of its own.
The party is not leaving anything to chance in Bihar, where the party is keen to restart its victory march that was halted in Delhi and is thus working on its strategy much in advance.
The BJP has the support of dalit leader Ram Vilas Paswan on its side and also the backing of former Chief Minister Jitan Ram Manjhi, a mahadalit, in his fight against Nitish Kumar.
The party is keeping "all options open" with regard to allying or not with Manjhi, amid intense speculation of a possible alliance with him after it extended support to him as Chief Minister, the sources said.
The BJP has also not made up its mind yet on whether to project a chief ministerial candidate or not in the assembly polls slated later next year.
The BJP and its allies had won 31 out of 40 Lok Sabha vseats in Bihar and ruling JD(U) was reduced to only two and Lalu Prasad's RJD to four, with both his wife Rabri and daughter Misa losing. Congress won only two seats.
Shah is also planning a tour of the North Eastern states in April to help strengthen the party's base there.