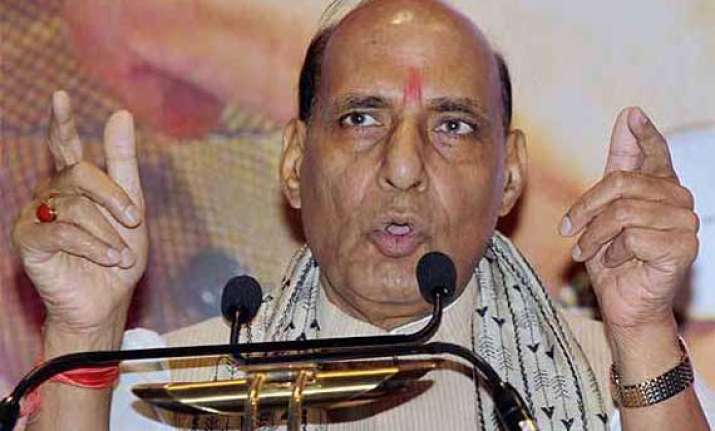 New Delhi: Those opposing abrogation of Article 370 should spell out how it has benefited the state of Jammu and Kashmir, BJP President Rajnath Singh said, while favouring a debate on the constitutional provision that grants special status to the state.
"Our stand is that because of this (Article 370), Jammu and Kashmir has not benefited at all. Had it benefited, had it helped in reduction of poverty, then we would welcome it. But this has not happened," Singh told PTI in an interview.
Favouring a debate on the issue, he said those opposing the abrogation of the article "should spell out how it has benefited the state. We believe it has not benefited the state."
In its manifesto for the upcoming Lok Sabha polls, the party has said, "The BJP reiterates its stand on the Article 370 and will discuss this with all stakeholders and remains committed to the abrogation of this Article."
On relations with Pakistan if the NDA comes to power, the BJP chief said there will be a quest for friendly ties with expectations of reciprocity.
"Pakistan is our neighbour. We will want to have good relations with it and all other neighbours. But Pakistan also should have the same approach. We also expect Pakistan to have good relations with India," Singh said.
On apprehensions that a Narendra Modi government could have a hawkish approach towards Pakistan as the BJP had been accusing the Manmohan Singh government of being "weak" in dealing with the country, he said, "The UPA government failed on the diplomatic front. We have already extended friendly hand to Pakistan and all countries."
Singh said that an NDA government would like to have cordial relations with neighbours and others also.