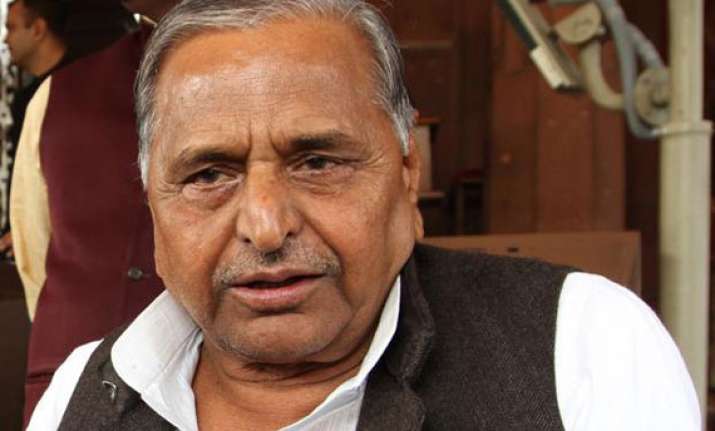 Bareilly/Lakhimpur Kheri: SP chief Mulayam Singh Yadav today said the ban on campaigning imposed by Election Commission on UP minister Azam Khan was "inappropriate" and it has led to resentment among the people. He said the Commission should review the ban on Khan from holding public rally.
"The election commission should review its decision of imposing ban on Azam Khan... there is resentment among the people because of ban on him," Yadav said at a rally in Bareilly this afternoon.
"Khan is an honest and dedicated leader of the country... Election Commission would not get any credit for imposing ban on him instead there is resentment in public over it," he said.
Earlier in Lakhimpur Kheri, he said that he would appeal to the Election Commission to lift the ban. The SP chief, whose remarks on rapists led to a major controversy, said,"innocents are framed in fake cases which often lead them to gallows and SP is against this".
The Election Commission yesterday imposed a ban on Khan's campaigning in the state over his controversial remarks. Yadav also exuded confidence that "neither BJP nor Congress would be able to form the next government at the Centre and it would be the Third Front which would gain majority in the coming polls."
Making an appeal to the people, particularly the youths to ensure maximum seats for SP in Lok Sabha polls at an election rally here Yadav said, "SP government would make education, medication and irrigation totally free if voted to power."
He was addressing a rally here in favour of party candidate Ravi Prakash Verma Yadav. "What the SP government did for youth in UP has become a model and now Punjab and West Bengal governments are following it," Yadav claimed.
In his address, the SP chief assured the Muslim community that Sachhar committee report would be implemented to improve their lot.