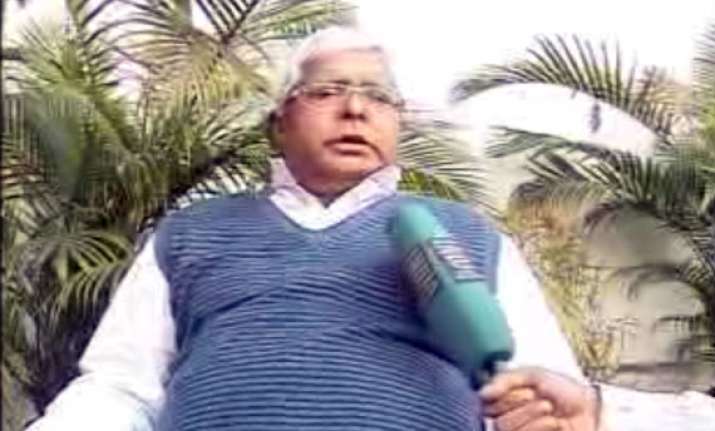 New Delhi, Feb 26: Former Railway minister Lalu Prasad has advised commuters not to expect anything from this rail budget because Indian Railways lacks resources.
In an exclusive interview with India TV, Lalu Prasad Yadav demanded more emphasis on how to bring more business to Indian Railways instead of getting more profits by hiking the fares.
Lalu  also recounted the plans that were in pipeline when he was the Union Railway minister.
He said that he wanted to shift inter-state transportation of goods from  road to railways. He also said that Japan had given an approval to invest into Western Corridor Project.
When  asked about his opinion on introduction of bullet trains he said ``introducing bullet trains is out of question when the existing trains are unable to run on time''.
Lalu yadav Yadav blamed the mismanagement of railways for the unhygienic conditions prevailing in the pantry vans of the trains. He repeatedly said that the food supplied in trains is prepared in bulk quantity in base kitchens of the trains and no level of sanitation is maintained there.
He also blamed Mamta Banerjee for the deteriorating condition of Indian railways.
``Mamata, instead of taking forward the growth and progress of Indian Railways which I had introduced, discontinued many trains like Rajdhani and Duronto that I had introduced''.
Lastly, he mentioned that Railways is India's `Golden Bird' and we should strive hard to bring in profitable business and make it prosper.