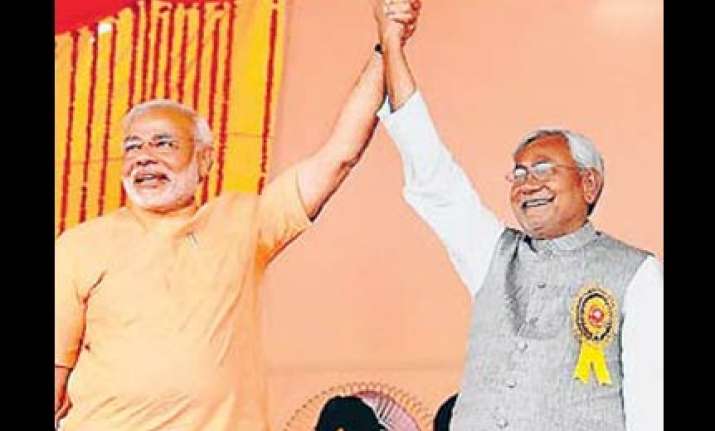 With the ruling National Democratic Alliance coalition in Bihar coming under strain, the Bharatiya Janata Party on Monday reminded the Janata Dal-United that while it respected its ideology, the latter should also reciprocate by giving the saffron party 'breathing space' so that both partners could consolidate their individual support base.
BJP think tank and National Executive member Amitabh Sinha on Monday affirmed that despite Bihar Chief Minister Nitish Kumar's reservations, his Gujarat counterpart Narendra Modi would be the BJP's mascot during the coming assembly elections in Bihar.
"Our ally should also understand that it cannot dictate terms to us on bringing a particular leader for campaigning, as such an exercise was aimed at strengthening the poll prospect of not only the BJP but the NDA as well", Sinha, who heads the intellectual cell of the BJP, told PTI.
"We, the two parties, are ruling a coalition government on the basis of an agenda of development and not ideology. This has been known since the formation of NDA," Sinha said.
"While the BJP respects the JD-U's ideology, the latter should also reciprocate and give each other breathing space so that both parties can consolidate their individual support base," the BJP ideologue said.
On the JD-U's concern that Modi's presence in Bihar for electioneering may veer away the minority votes from its kitty, he said the NDA government will be judged by the electorate on the basis of its performance and welfare measures, which have benefited the Muslims too.
The JD-U and the BJP were elected on common agenda of ridding Bihar of 'jungle raj' of the Lalu-Rabri era and development and this time too the issues were the same, Sinha said.
On the strain in the coalition following publication of an advertisement showing the chief ministers of Bihar and Gujarat holding each other's hand aloft, he said that the BJP, on its own, stood for maintaining the coalition at all costs and in the interests of the people of Bihar.
However, the JD-U should also share equal responsibility for keeping the coalition going by ignoring smaller issues, he added.
The JD-U too owned accountability to the people not to allow the 'ghost' of Lalu-Rabri rule to return to power again and carry forward the ongoing development activities to transform Bihar as a developed state during their second stint in power, he said.
Sinha, who was in Patna to attend the BJP's executive meet, said that Modi drew a large crowd at the 'Bihar Swabhiman rally' addressed by BJP leaders and said that its coalition partner should understand that the saffron party too had obligations to grow as a political party and create a niche for itself in the state.
"How can we allow ourselves to be relegated as a fringe political outfit, knowing that we have emerged as a major force in Bihar in the past and may scale up further on the basis of the performance of our ministers in the NDA government?" he asked. PTI