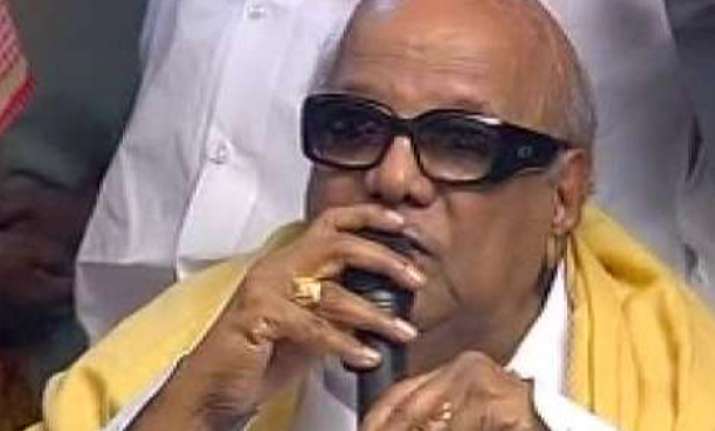 Chennai, Jun 4: Key UPA ally DMK today asserted that it would never remain silent to any decision that go against the people and said it had not hesitated in the past to walk out of a ruling alliance to uphold its principles.
"We don't tolerate issues that are against people and we have not hesitated to walkout to uphold our principles as we did with the BJP-led NDA government," DMK chief M Karunanidhi said at a public meeting organised to mark his 89th birthday.
The DMK patriarch recalled that his party had pulled out of the NDA after it had "become communal and anti-minority" saying the party could no more work under the leadership of BJP veteran and then Prime Minister A B Vajpayee, who, he said, was known for his good credentials.
"Just because we have (political) agreement it does not mean we will accept everything proposed by an ally in the saddle.
When petrol prices were hiked, we did not keep quiet and sought a reduction," he said referring to the party's demand for substantial reduction in the recent steep hike.
"We could heave a sigh of relief only after it (reduction) happened," he said in an apparent reference to the Rs two per litre rollback announced by the oil companies against the Rs 7.50 hike, which triggered a huge public outcry.
A key UPA ally, Karunanidhi had led a state-wide protest on May 30 against the fuel price hike where he issued a veiled warning to pull out of the alliance on the issue. However, in a flip-flop within hours, he denied having held out any such threat.
The DMK chief said there were complaints now that the (Rs two) reduction in petrol price was not enough, but hastened to add that the government was explaining the rationale behind the hike indicating at reasons including falling Indian rupee.
He took a dig at his arch-rival and AIADMK chief J Jayalalithaa saying her government had not announced even a token rollback of prices of milk and bus fares that were hiked last year, despite pleas from allies.