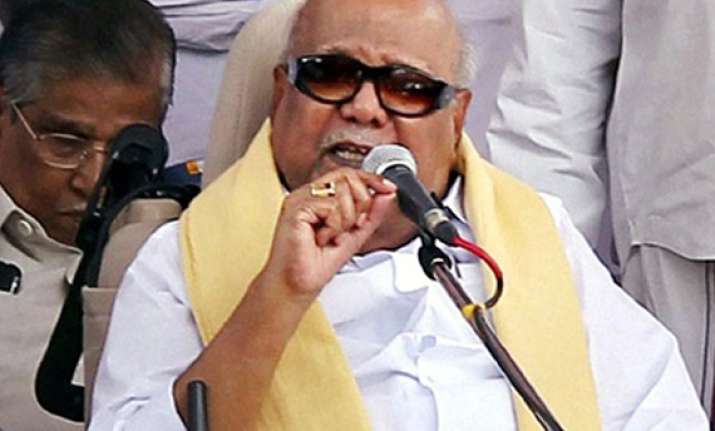 Chennai, Feb 16: Key UPA ally DMK today condemned the petrol price hike and demanded that government retain its control on pricing of petroleum products besides seeking a change in pricing policy.
Party chief M Karunanidhi said the issue had become similar to that of attacks on Tamil Nadu fishermen allegedly by Sri Lankan navy with political leaders issuing statements expressing concern during such incidents whereas "it seems neither Indian government nor Sri Lankan government are bothered" even as there was no end to the attacks. 
"Similarly, despite statements condemning the hikes, prices of petrol and diesel keep increasing," he said in a statement.
Karunanidhi said every time petrol prices are revised, the rates of essential commodities automatically go up which affect the poorer sections of society whom, he said, had little purchasing power.
"Oil companies don't seem to consider this social problem. The regular hikes in petrol and diesel are being announced after government ceded the pricing control to them.Considering the chain reaction in society, the government should take back to itself determination of petroleum prices," he said.
Due changes should also be made in the pricing policy considering social welfare, he said while demanding a rollback of Friday's hike of Rs 1.50 per litre on petrol and 45 paise on diesel.
Chief Minister Jayalalithaa has also sought a change in the pricing mechanism, calling for a more domestic-oriented policy.
Slamming the hike in fuel prices, Jayalalithaa had yesterday said the move amounted to betraying the middle and lower classes and demanded that Centre withdraw its order allowing oil firms to fix prices and also rollback the latest hike.