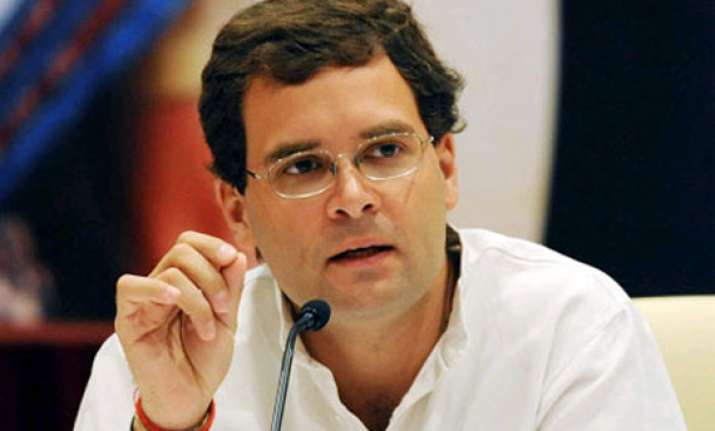 New Delhi, Feb 16: Disconnect between party and government, political rivals and preparedness for the assembly polls this year, dominated the deliberations of state leaders with Congress vice president Rahul Gandhi Friday aiming at strengthening the party, said party leaders.
"Though the focus of the meeting was on organisation, the deliberations went beyond and covered issues like state politics, political rivals, local issues and the coming elections," Congress general secretary Janardan Dwivedi told reporters after the nine-hour-long meeting here.
"Out of the 49 leaders called, 45 came and 32 spoke. The remaining 13 would speak on Saturday," he said.
After becoming vice president Jan 19, this was the first official meeting Rahul Gandhi had called to get feedback from chief ministers, state unit chiefs and state legislative party leaders.
According to party sources, many leaders complained of the disconnect between the party and the government and expressed concern that central ministers praise chief ministers in non-Congress ruled states during their visits, thus demoralising party workers.
Some leaders deviated from the brief and started airing personal grievances.
"Rahul Gandhi gave a patient hearing to all," Jammu and Kashmir Congress chief Saifuddin Soz told reporters afterwards.
"He asked the leaders to prioritise issues that can be tackled in the short term so the party becomes stronger," said a Congress leader, who did not wish to be named.
Many leaders wanted Gandhi to visit the poll bound states.
Upcoming assembly elections in Delhi, Karnataka, Rajasthan, Chhattisgarh and Madhya Pradesh, where the Congress will have a direct fight with the Bharatiya Janata Party (BJP), were also discussed during the meeting along with the preparedness for the big political battle of 2014 Lok Sabha polls.
Discussions also centred around how to resurrect the party in states like Uttar Pradesh, Punjab, Goa and Gujarat where the Congress lost assembly polls last year.
According to sources, around one and a half hour were devoted to Punjab alone, where the Congress failed to stop the Akali Dal from returning to power in 2012.
While returning to power for the fourth time in a row in Delhi could be an uphill task for Chief Minister Sheila Dikshit, factional feuds in Madhya Pradesh Congress may yet prove to be difficult in stopping BJP Chief Minister Shivraj Singh Chouhan from performing a hat-trick in 2013.
The Congress is not too strong in Chhattisgarh either and will find it difficult to challenge Chief Minister Raman Singh, who enjoys the reputation of an efficient administrator.
Karnataka, which goes to polls mid-year, is the only hope for the Congress, which should not find it difficult to defeat a divided BJP led by Chief Minister Jagadish Shettar.
The exit from the BJP of former chief minister B.S. Yeddyurappa, who now heads his Karnataka Janata Party, is expected to further dent the party's vote share.
In Rajasthan, Congress Chief Minister Ashok Gehlot will have to face a tough challenge from newly appointed BJP state unit chief Vasundhara Raje, who is also a former chief minister.
The Friday's meeting follows from Gandhi's interactions with party general secretaries and secretaries, spread over three days two weeks ago.
Gandhi heads the party's coordination panel for the 2014 polls.