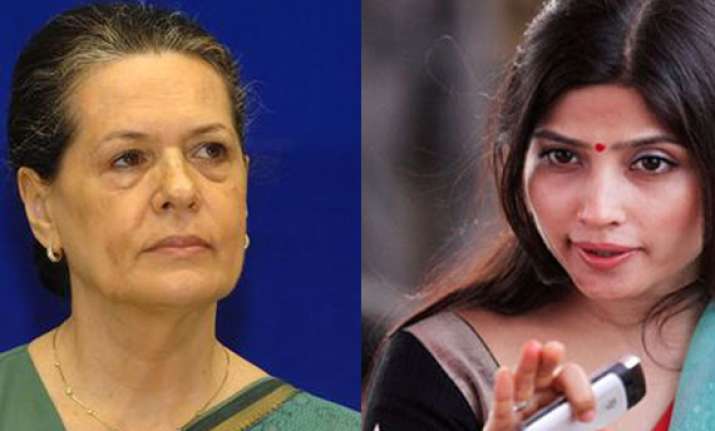 Kannauj (UP), Jun 5:
Dimple Yadav, wife of Uttar Pradesh Chief Minister Akhilesh Yadav, today filed her nomination for the Lok Sabha by-election from Kannauj where the Congress has decided not to put any candidate.
Accompanied by her husband, 35-year-old Dimple, who suffered a humiliating defeat at the hands of Congress' Raj Babbar in the by-election for the Firozabad parliamentary seat in 2009, filed the papers before the returning officer.
Reflecting the growing bonhomie between the two parties ahead of the presidential poll, Congress has decided not to field any candidate against Dimple in Kannauj. 
Congress General Secretary Digvijay Singh said, "We had not contested the seat in the 2009 Lok Sabha election and we are not contesting it now."
The Kannauj by-election, being held on June 24, has been necessitated following the resignation of Akhilesh Yadav after his election to the Legislative Council.  Dimple, an MCA, promised to work honestly for development of the constituency.
Attacking the BSP government, Dimple said due to its "corrupt" practices the previous government had put the state on backward track and made the people of the country "ashamed".
"I want to seek blessing of the people who have earlier trusted netaji (Mulayam Singh Yadav) and Akhilesh. I am your beti (daughter), sister and bhabhi (sister-in-law), you should take poll campaign in your hand and make me victorious", she said.
"SP has no difference in its words and actions. We do what we say and development will remain our agenda", she said.  Asked whether she feels that the Kannauj by-election will be easier as compared to the Firozabad experience, she said, "It appears to be".
Talking to reporters, Dimple said she would work hard to come up to the expectations of the people of the constituency.  Earlier addressing a rally along with his wife, the Chief Minister said he would try to change the face of the state in the next five years.
"You all have seen the state budget. We have fulfilled promises made in the party manifesto in about three months time. Our government will change the face of the state in the remaining time. I am confident that people will give us another chance after five years", he said.