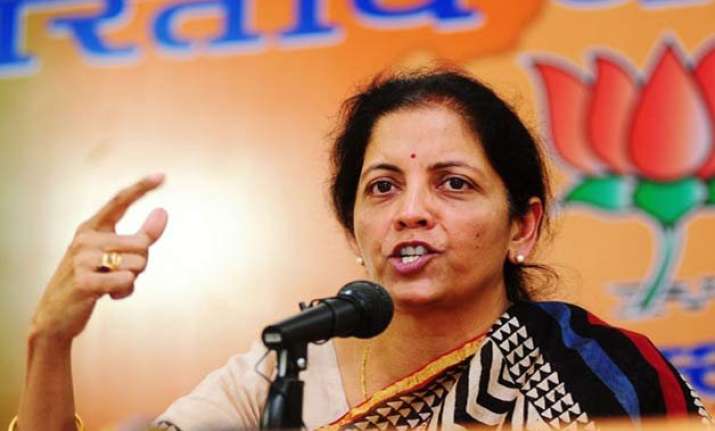 New Delhi: Targeting Aam Aadmi Party ahead of the upcoming Delhi polls, the BJP accused them of being anti-national for seeking votes and donations from its volunteers based in Bangladesh, Pakistan and Dubai.
Union Minister Nirmala Sitharaman said, "It is natural to ask for votes. But the way AAP is asking for votes is anti-national."
She also questioned why AAP had not given details of its accounts for Lok Sabha polls to Election Commission. Being a party which accuses other parties of being corrupt, how that AAP is yet to submit the details of its expenses for the 2014 Lok Sabha polls to EC.
The third question was about the exodus of women members from the party. "It won't be an exaggeration to say that AAP is anti-women. Madhu Bhaduri, Shazia Ilmi and Neena Sharma left AAP. Why is there an exodus of women from the party?" Sitharaman said.
The fourth question was related to AAP's decision to challenge the election commission's notice in the Delhi high court. BJP members say AAP has no respect for constitutional institutions. "They use it whenever it suits them.
"The EC notice is still valid, but they are blatantly violating the rules," she said.
She questioned AAP's intention to strengthen Lokayukta and said, "How many times did they raise that issue during the 49 days in power in Delhi? Kejriwal has cheated Anna Hazare not once or twice, but several times," she said.
Sitharaman also slammed AAP for failing to answer questions raised by BJP on Thursday. "Some might find the questions we asked yesterday old, but these questions haven't been answered by AAP. They should answer these questions before asking our CM candidate for a debate.
"Our members Shazia Ilmi and Ashwini Upadhyay are ready to debate," said Sitharaman.
BJP plans to put five questions to Kejriwal everyday till February 5 in the run-up to the February 7 Delhi Assembly polls.
Talking about a caricature on Anna Hazare in a BJP advertisement, Sitharaman said, "It symbolises the fact that AAP has been completely insincere to the (anti-corruption) movement."
AAP on Friday took a swipe at BJP for its newspaper advertisement in which Anna Hazare's cartoon was shown with a garland with Kejriwal wondering whether the saffron party had "killed" off the veteran anti-corruption crusader.