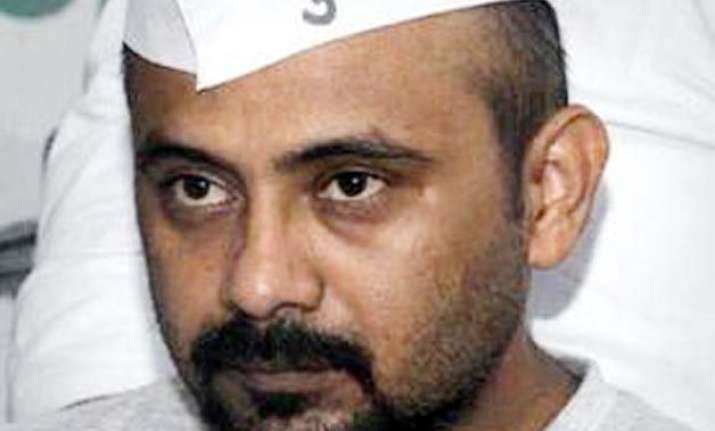 New Delhi:  In a twist, Delhi Police filed an FIR on Thursday against AAP leader Dilip Pandey for assaulting the driver of a police van that allegedly "attempted to mow him down."
Sources said police was also contemplating to register a cross FIR against Azad Singh, the driver of the van, after Pandey filed a complaint against him, which was promptly projected by the AAP as an alleged attempt to "kill him".
"An FIR has been registered against Dilip Pandey and other volunteers of AAP, on a complaint filed by Azad Singh, who was driving the police van at Rajinder Nagar police station," said a senior police officer.
In his complaint Singh, head constable of First Battalion of Delhi Police, at Kingsway Camp, said that he was moving the van to give way to another vehicle when it lurched forward on a slope.
"After this, those standing ahead of the vehicle started accusing him of trying to mow them down. Some (AAP volunteers) of them dragged him out and thrashed him," the complaint said.
Later, he was saved by a police inspector and taken to hospital as he had received injuries on chest and his right hand, the complaint added.
"The van was going to run over me for which I filed a complaint. But the person who tried to kill me has instead filed an FIR against me," Pandey said.
On Thursday, a delegation of AAP leaders met Union Home Minister Rajnath Singh and took up the matter.
Senior leaders Kumar Vishwas, Sanjay Singh, Ashutosh, Durgesh Pathak and Pandey handed over a video of the incident that happened on Tuesday night.
"He (Rajnath) told us that he is aware of the case through the media and he will talk to the officers regarding it," Vishwas said.
The meeting comes a day after AAP leaders met Lt Governor Najeeb Jung and Delhi Police Commissioner B S Bassi over the issue.
AAP leaders said they have also sought President Pranab Mukherjee's time to raise the issue with him.