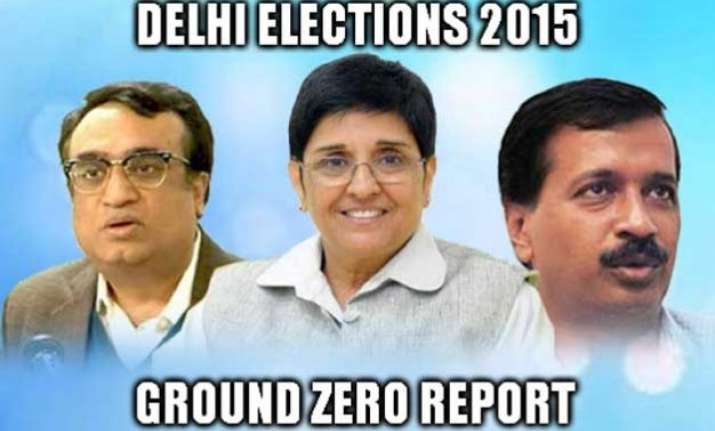 New Delhi: Delhi elections are becoming more and more interesting with each passing day. Delhi's political circles, nowadays, are abuzz with questions galore. Will Modi wave work once again the way it did during 2014 Lok Sabha elections? Can Kiran Bedi succeed in checking the perceived downslide in BJP's fortunes? Will Arvind Kejriwal-led Aam Aadmi Party get another opportunity to rule Delhi? And most interestingly, can the Congress manage to hold the eight seats it had won in 2013 Assembly elections? These are the questions that are being hotly debated in every nook and corner of India's national capital.
 
The final answer to all these questions will emerge on February 10, when the votes will be counted. However, India TV Digital tried to gauge the mood of the public in three Assembly constituencies- Mundka, Kirari and Nangloi Jat - by directly reaching out to them. These lively interactions threw up some very interesting indicators that can help one understand which way the wind is blowing.
What is interesting is that the electorate seems to be completely divided between two groups – the 'haves' and the 'have-nots'.
 
The lowest strata of the society, cutting across caste and community lines, is more concerned about the problems that it faces on a daily basis. Himalayan promises of development have no meaning for them. They are more concerned about who will protect them from alleged extortion demands of Delhi Police and MCD staff. They are more interested in who can ensure that the electricity bill remains affordable and well within their reach.
 
And this is where the AAP scores over the BJP. The 'have-nots' will lose no time in reminding you that during 49-days of Kejriwal's rule, they faced no harassment from policemen and that their electricity bill had gone down drastically.
 
Terming Arvind Kejriwal as the only hope for the working class, Sanjay Pandit, a construction worker from Mundka Assenbly constituency says, "I can't forget that during 49-days rule of Kejriwal, policemen did not dare ask for extortion money. If a person wanted to make a house in a colony, it was not possible unless he paid money to the policemen but Kejriwal stopped it all."
And interestingly, this view resonates across caste lines.
Parvesh Shokeen of Nangloi Jat Assembly constituency agrees with Sanjay.
 
Parvesh comes from a Jat family and he is not the only one from his community who believes that Kejriwal indeed curbed corruption and had reined in policemen. In fact, a significant section of Jats have similar opinion.
 
This comes as a big surprise because Jats, of late, have supported BJP vigorously and Kejriwal seems to have made inroads into this vote-bank of the saffron party.
 
But support for Kejriwal does not mean that they no longer like Narendra Modi, the Prime Minister. In fact, they are still big fans of Modi and are unanimous that if Lok Sabha polls are held tomorrow, they will once again support Modi and vote for the BJP.
 
For them, the slogan is "Modi for PM, Kejriwal for CM".
 
"We voted for Udit Raj in Lok Sabha elections because of Modi but Udit has not visited us once after winning elections. Anyways, we'll continue to support Narendra Modi," says Parvesh.
So where has the BJP gone wrong? It seems that the lack of a charismatic face at the local level is making things difficult for the BJP.
 
Does it mean that Kiran Bedi has failed to connect with the voters? The answer, perhaps, is yes.
 
" Kiran Bedi was a tough police officer but politics is different. She is being opposed by her own party men and I doubt if she would be able to deliver," said Dharampal, a retired sub-inspector of Delhi Police.
 
Dharampal, interestingly, believes that Modi should be thankful to Kejriwal because he played an important role in his landslide victory in Lok Sabha elections.
 
" Kejriwal's fight against corruption created the ground for Modi's victory," argues Dharampal.   
 
If there is one section that seems to be siding with Kiran Bedi then it's the female community.
 
Visha, a graduation student living in a village falling under Kirari Assembly constituency, is quite articulate in her support for Kiran Bedi.
 
"I'll vote for Kiran Bedi because she is the only ray of hope for women. She will definitely fulfill all the promises she is making," said Visha.
 
All other women standing beside her nod in support.  
 
It's not that BJP has completely lost the battle. In fact, they party has got committed voters in several parts of Delhi especially villages dominated by Jats who fall in the category of the 'haves'.
Ask anybody in Mundka village and they will tell you BJP is the best party and Modi is the best leader.
 
"We'll vote overwhelmingly for the BJP because of two reasons. First, the BJP candidate is the brother of former CM late Sahib Singh Verma who did a lot for the area. Second, Modi is the most honest leader among the present lot of politicians," said Jile Singh, a retired Army man.  
 
Muslims, as expected, seem to have completely rallied behind Kejriwal.
 
"80 percent of Muslims in this area will vote for AAP," says Zaheer of Pervez Nagar.
 
Are they not impressed with Modi's work? Interestingly, they have no complaints against Modi.
 
" Modi is doing good work but assembly elections are different. Kejriwal should get a chance this time," says Aamir Warsi.
 
Are they worried about controversies like ghar-wapsi?
 
"There is no such tension in this area but yes we are worried," said Yusuf, a youngster.
 
Kejriwal, interestingly, has emerged as a big hope for Muslim community and some Muslim women are praying for his victory.
 
"My mother says she will offer 10 special prayers in case Kejriwal wins these elections," said Faheen Ahmed.
 
The biggest support for Kejriwal comes from JJ (jhuggi jhonpri) colonies. For all their problems, they look upon Kejriwal as the savior.
 
And they a long list of grievances against the present dispensation in Delhi.
 
Some of them are livid because their electricity connection has been cut off and names deleted from ration card list on flimsy grounds of consuming more electricity units than what was permitted to them.
 
Shyamdas, a tailor by profession living in a JJ colony falling under Mundka Assembly constituency, is angry because his electricity connection has been cut off on charges of consuming more than 2KW of power. He wonders how can it be possible with only he and his wife living in the house.
 
Similar sentiments prevail in Jwalapuri JJ colony. Recalling 49-days' rule of Kejriwal, the daily wage workers said that they faced no harassment from police that time.
 
But even in these JJ colonies, those who are slightly better-off financially still support BJP and they say that they will vote for Modi's party despite being aware of the fact that Modi is not a candidate  in these Assembly elections. Once again, it clearly reminds you of a vertical split between 'haves' and 'have-nots' even in these JJ colonies.
 
The BJP seem to be facing another challenge of internal dissension and it may cost them dearly in these elections if the party leadership fails to stem the rot in time.
 
A few of BJP leaders who spoke on condition of anonymity sounded unhappy over the projection of Kiran Bedi as the CM candidate. These leaders, however, added that they have no other option than to go with the decision of the top leadership.
 
But the question is - can a party deliver its best in elections if the rank and file lack enthusiasm to go the whole hog in bringing the voters to the polling booth.
 
An astute election manager like Amit Shah knows it best and that's why he is reportedly trying to convey the message that the BJP leaders should forget their internal differences, accept Kiran Bedi as their leader and give their best shot on D-Day i.e. February 7.
 
As for Congress, irrespective of what the party says, it seems they are clearly out of the race. The electorate is not giving them any chance. They may win a few seats largely because of the personal charisma of the candidates. On the ground level, it seems they are in the danger of losing whatever support base they had in last elections to the AAP this time.  
 
It's always difficult to predict the outcome of any elections in a country as diverse as India but ground level interactions give you a fair idea of the leanings of the major stakeholders.
 
As of now, the prevailing sentiments on the ground level suggest only one thing – majority of Delhi electorates seem to be divided between 'haves' and 'have-nots'.