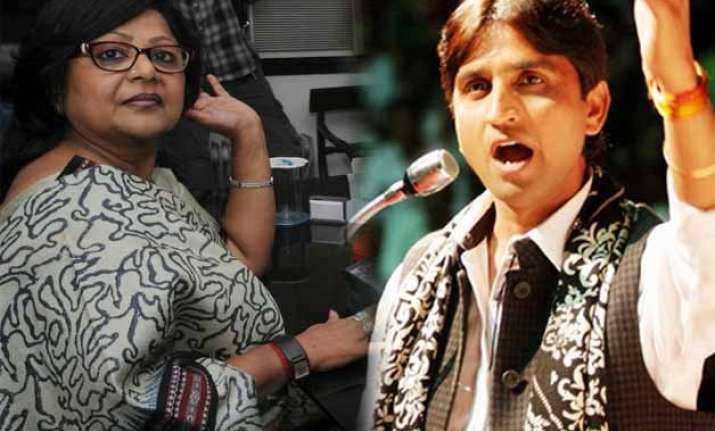 New Delhi: Delhi Commission for Women Chief Barkha Shukla Singh on Thursday approached the Lt Governor and Delhi Police seeking "stringent" action against AAP leader Kumar Vishwas, alleging that he was behind the posting of a series of "inappropriate" and "objectionable" tweets on her.
The DCW chief also sought filing of an FIR against the AAP leader on the basis of her complaint and asked for police protection, alleging threat to herself and her family from Vishwas and his associates.
Earlier this month, the DCW chief had issued summons to Vishwas after an AAP volunteer accused him of not rebutting "rumours" about an illicit liaison with her and ruining her reputation.
"Mr Kumar Vishwas is threatening me through his cohorts and is sending number of tweets. The tweets are so highly objectionable and undignified that after reading them one will hang his or her head in shame. These objectionable and bad tweets against woman of dignity and high reputation like me definitely invite stringent legal action against Kumar, who is directly or indirectly defaming me through twitter in the social networking site just because the Commission summoned him on the basis of a complaint of a distressed woman," Singh said in letters to Lt Governor Najeeb Jung and Delhi Police Commissioner BS Bassi.
Vishwas could not be contacted for his comment.