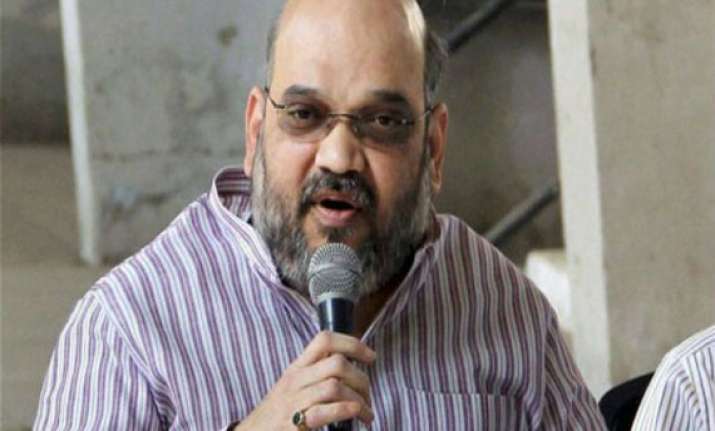 New Delhi: BJP today slammed Samajwadi Party, Congress and BSP over registration of a criminal case against Amit Shah over his controversial "revenge" remark saying it was done as a calculated design to polarise election scenario in UP and is motivated by votebank politics.
Senior party leader Ravishankar Prasad also played a video clip of Barrack Obama and insisted that the use of the word "revenge" by Shah was not unusual as the US President too had used the word during an election campaign in Ohio.
"Even US President Obama has told Ohioans that voting is the best revenge," Prasad said. Mounting a scathing attack on the SP government in Uttar Pradesh over the matter, he said, "The case has been registered by UP government for vote bank. It is not a bonafide FIR, but an FIR designed for vote bank politics."
He alleged that apart from SP, Congress and BSP also had a hand in registration of the case against Shah. "This FIR is a calculated design to communalise and polarise the election scenario of Uttar Pradesh. BJP condemns this downright insult...It's not the SP alone, which has got this case registered against Shah. Congress and BSP are also behind it," Prasad said.
Replying to questions, he said BJP is, however, not worried about the possibility of Shah's arrest and will fight the legal battle.
Shah, Narendra Modi's key aide, was booked today by the Bijnore district administration for allegedly inciting the public through his controversial "revenge" remark.
"A case has been lodged under various sections of the IPC by the District Magistrate regarding some objectionable part in Shah's speech," Chief Electoral Officer Umesh Sinha told PTI in Lucknow.
Prasad said Shah had merely asked people to express their pain and agony through ballot. "What is new is this? What is wrong if in a democracy a voter takes revenge for his suffering through vote in a non-violent and peaceful manner," he argued.
He also alleged that the FIR has been registered by a state government, which released terrorists and withdrew cases against them, which was in turn quashed by the High Court.