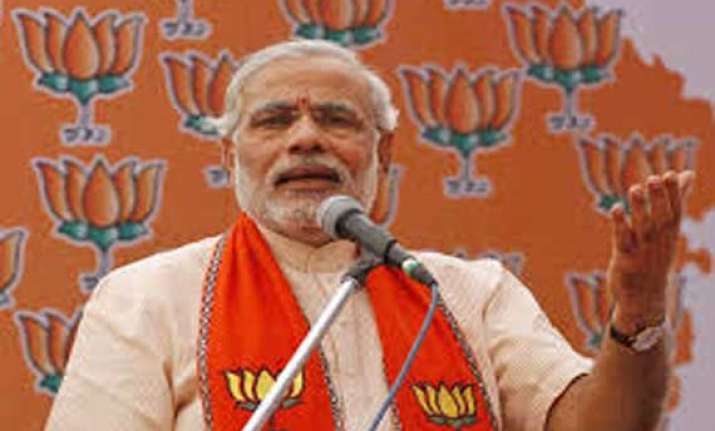 New Delhi: The Varanasi district administration on Wednesday cancelled one of the three rallies Narendra Modi was scheduled to hold in the region on Thursday.
The administration cancelled the Beniabagh rally saying the venue was crowded and unfit for holding large rallies.
Modi was planning to address two rallies in the holy town on Thursday and also perform a "Ganga Aarti" in the evening.
A controversy erupted over alleged delay in grant of permission for Narendra Modi's rally scheduled for tomorrow in the constituency, with BJP crying foul and demanding that the Election Commission remove the electoral officer.
With the campaign fever soaring ahead of the May 12 vote in the constituency where Modi is in the fray, BJP leader Arun Jaitley today alleged that the district magistrate, who is serving as electoral officer for Varanasi Lok Sabha polls, was making "unbelievable" excuses to "deny" security approval for the rally, which was a right of any candidate.  BJP said it has written to Chief Election Commissioner Sampath against the local electoral officer and has demanded his removal.
Modi is scheduled to hold a public meeting at Beniya Bagh area here tomorrow evening, after another rally in Rohania, a rural assembly constituency outside the main Varanasi city but within the Lok Sabha constituency. 
The permission was being held back for Beniya Bagh on the grounds that it was very crowded and unfit for holding rallies, officials said, while adding that the administration had also got certain requests from the general public for not allowing rallies in such areas due to security risks.  Top officials, however, sought to blame the delay in approval to non-receipt of ground report from security agencies and said a final decision could be taken by  evening.
They claimed that the request for the rally in Beniya Bagh area here was received yesterday only.  They said that the district administration was waiting for the ground report from the police and local intelligence unit and a final decision on approval for the rally would be taken thereafter.
Terming the situation as "unprecedented", Jaitley said, "Holding public meeting in his constituency is right of every candidate and Narendra Modi cannot be denied the same." "If the approval is denied on the basis of some back-dated letter or so-called intelligence alerts about security issues, they are only excuses. We have written to the CEC and hope the situation to become clear very soon," he said.
When asked whether BJP suspects that UP state government was behind the "denial", Jaitley said, "I do not know who is interferring, but the DM as an electoral officer is free to decide on such things and he is not supposed to come under any kind of pressure.
"We have written to CEC to seek his removal from here." Varanasi goes to polls on May 12 and the campaigning will end on May 10 evening here.
Modi is pitted against AAP's Arvind Kejriwal and Congress' Ajay Rai.