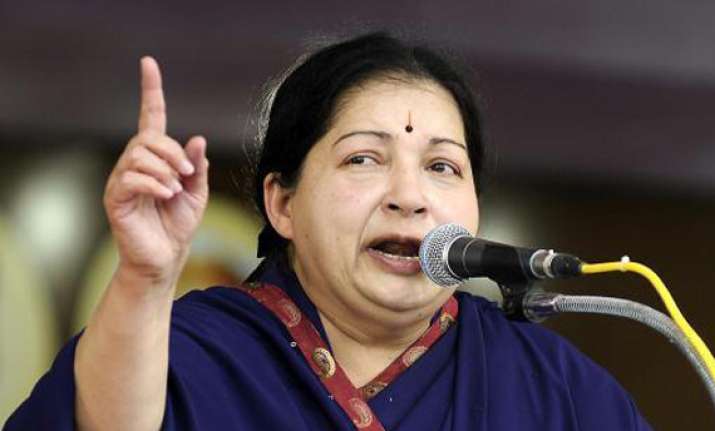 Chennai: If the people of the state took their freedom as a duty, the nation would progress in leaps and bounds, and Tamil Nadu would emerge as the number one state in the country, Chief Minister J. Jayalalithaa said Wednesday.
Greeting the people on the eve of India's 67th Independence Day, Jayalalithaa said in a statement: "If people could, instead of taking freedom as a right, think of it as a duty, and function accordingly, India would be a super power, and Tamil Nadu its number one state."
She said the state had seen several freedom fighters, and her government is keen on keeping their memory alive in the minds of the state's young. She said memorials would be built to remember the people who made enormous sacrifices for freedom.
Jayalalithaa said the government had increased the freedom fighters' pension, family pension and medical benefits.
PMK founder S. Ramadoss said that looking back at the 66 years of independence, the country had progressed a great deal in science, technology, education and other areas.
He said that while the progress made one feel proud, there was also much hurt while noting that poverty had not been eradicated, and quality education that was also free was elusive.
Ramadoss said 66 years after independence, the country's leaders still expect people to queue up with a bowl for free rice.
He said the elected government was destroying the lives of several families, as the younger generation had been enslaved to liquor.
Ramadoss said that the Tamil Nadu government was not willing to correct itself, though it knows that unless liquor is abolished, there would not be any progress in the country.
In Tamil Nadu, the state government is the monopolistic owner of retail liquor outlets.
In his greeting, Governor K. Rosaiah said: "Let us on this day resolve to rededicate ourselves to uphold the sovereignty and integrity of our nation and build a strong and vibrant India."
"May this holy occasion rekindle in us the spirit of hard work and patriotic fervour and bring in progress, prosperity and robust growth in all spheres," he said.