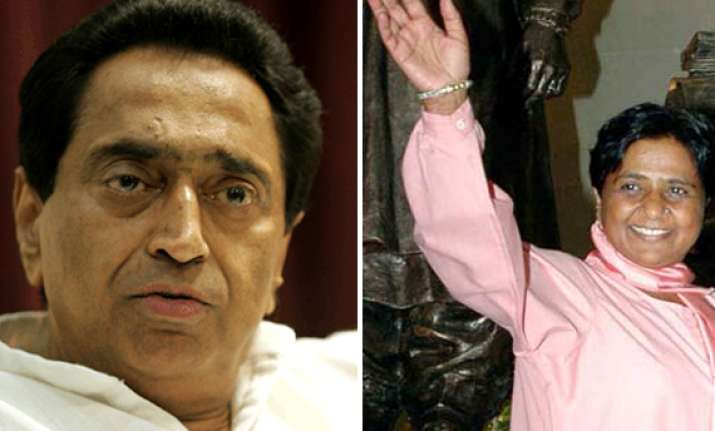 New Delhi, Dec 3: With Mayawati voicing certain reservations over FDI policy in its present form, Government today sought to keep BSP in good humour by declaring its commitment to a Constitution Amendment Bill providing for promotions for SC/STs in government jobs.
"Government is committed to the Constitution Amendment Bill," Parliamentary Affairs Minister Kamal Nath told reporters when asked about Mayawati's ambivalent stand on support to the Government on the FDI issue which is being taken up in the Lok Sabha tomorrow under a rule that entails voting.
Recalling that the Government had itself brought the Bill in Parliament, he said, "It is introduced in the Rajya Sabha by us. It is listed by us as 'number 1' in the List of Business today."
The BSP, which has 21 members in the Lok Sabha, has been aggressive in Parliament for passage of the Bill and has been at loggerheads with Samajwadi Party, its rival in Uttar Pradesh politics, on the issue. The SP, which is also a key outside supporter of the Government, is opposed to the measure.
With the Left and the Right making a common cause on opposition to the FDI issue, Kamal Nath sought to drive a wedge in the opposition asking all political parties to reject the "politics of BJP".
"What are we going to discuss - this is purely politics. I am urging all political parties to recognise the politics behind this debate and vote against the politics...And the House must reject the politics of the BJP in this," he said.
Elaborating his point, he said the vote in Parliament would not determine whether the FDI will be implemented in the states or not. "That is for the states to determine," he said.