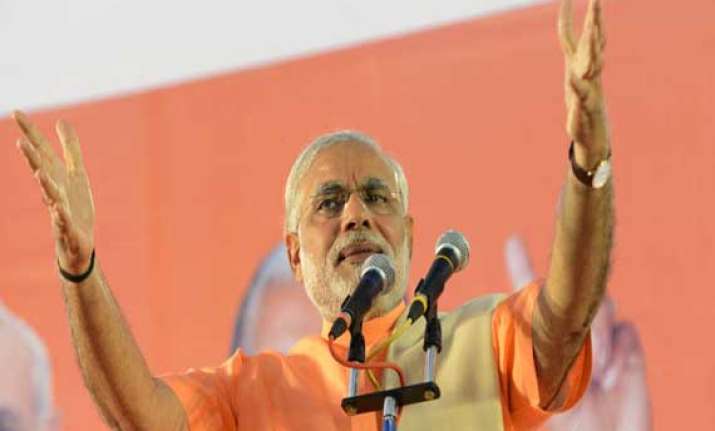 Krishnanagar (WB): Claiming that Congress, Trinamool Congress and the Left have a "behind the scene" understanding, BJP's prime ministerial candidate Narendra Modi today said that their only agenda was to "stop Modi".
"You may think that Congress, Trinamool Congress and the Left are fighting separately. But try to understand the game played by them behind the scene. All three of them are saying the same thing - stop Modi", he told an election meeting here.
Continuing to target TMC chief Mamata Banerjee, he said, "In Didi's speech there is nothing but only the  call to stop Modi. I am afraid that Didi is not taken sick". Referring to the Saradha chit fund scam and the primary teachers recruitment fiasco in the state, Modi said, "Bengal has turned into a scam Bengal. There is scam after scam"."On one side, scam India, and on another side scam Bengal. I have to make India skilled India and not scam India".
Modi claimed that West Bengal stood in the forefront of atrocities committed on women despite the fact that the state had a woman in the helm.
"Here is the rule of Didi and in Delhi there is the government of a mother and a son. Should there be atrocities on women? What is the reason? Bengal is in the forefront as far as atrocities on women is concerned," he said.
Turning his focus on the Congress-led government in Delhi, he said that the government had promised in 2009 to create 10 crore jobs, but failed to fulfil it.
He accused the Congress of bluffing to mislead the people, saying people forgive if anyone commits mistake, but they don't forgive if one resorts to bluffing.