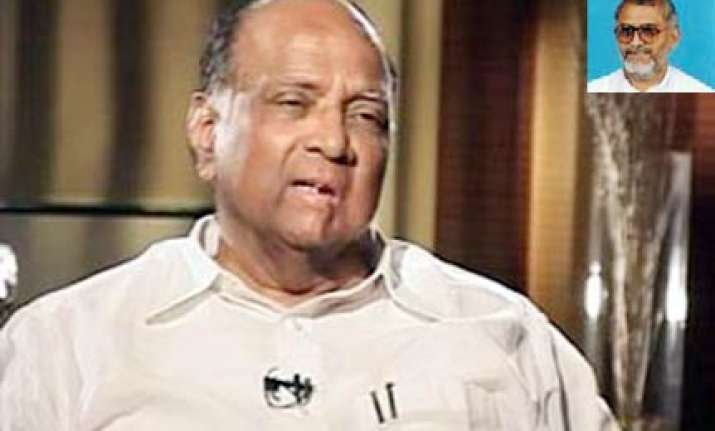 Congress MP Satyavrat Chaturvedi was on Tuesday taken off the panel of party spokespersons for purportedly using an abusive word against NCP chief Sharad Pawar.  
A camera crew stealthily caught Chaturvedi using the expression which, while used almost as a punctuation mark in north India, has not become part of the political lexicon yet. NCP leaders were furious when they saw footage of Chaturvedi candidly expressing his views on the performance of agriculture and food ministries under Pawar and the kind of problems they have been causing to Congress.  
Sources said civil aviation minister and Pawar confidant Praful Patel immediately lodged a strong protest against the "base" language used by Chaturvedi, demanding strong action against him.  
The decision to drop Chaturvedi was taken after a review of the footage convinced party leaders that it was the minimum that they needed to do to mollify the angry alliance partner.  
When asked, Janardan Dwivedi, who heads Congress's media department, refused to comment. "I don't discuss organisational matters with media," he said tersely.  
Chaturvedi's removal was confirmed by sources, though they stressed that Chaturvedi will be persisted with as a senior office-bearer.  
After his gaffe on Tuesday, Rajya Sabha member Satyavrat Chaturvedi will continue to look after various party cells and departments — a responsibility many consider as equalling that of a general secretary. He will also remain a special invitee to Congress Working Committee, the party's top decision-making body.  
Sources in the party insisted that the MP did not realise that the camera was rolling when he engaged in some plainspeak about Pawar's performance.  
The party MP from Madhya Pradesh is known for his candour, his colourful expressions having attracted attention earlier as well. On an earlier occasion, he had angered Amar Singh with the advice that the expelled SP leader needed to see a psychiatrist. Neither the fact that negotiations were still on nor that SP had just bailed out the government in the trial of strength over the Indo-US nuclear deal in the last LS deterred Chaturvedi.  
Chaturvedi's views on Pawar's performance are shared by many in Congress and had even found vocal expression in the last meeting of the CWC on price rise. But the party had fought shy of going public with it till he went on record, though inadvertently and, perhaps, at some cost.