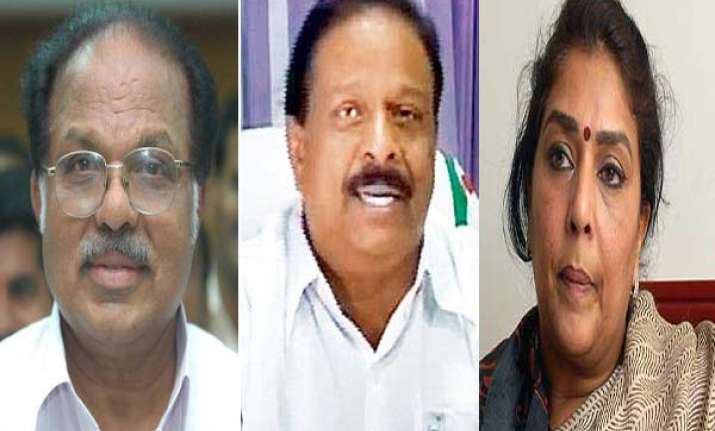 New Delhi, Feb 19: The Congress party has snubbed its MP from Kerala, K Sudhakaran for his sweeping comments against the Suryanelli rape victim,  describing her as a prosititute who slept with several men.
Sudhakaran, during a media interaction in Muscat, Oman, described the rape victim of questionable character, alleging that she never left the places where she was reportedly raped.
The Lok Sabha MP from Kannur said government should make a difference between women who are raped and women who willingly sleep with other men.
The victim had had accused Rajya Sabha  Deputy Chairman P J Kurien of involvement in Suryanelli gangrape but  on Monday the Congress party indicated any decision on Kurien will not be taken in a hurry  as it was "not an open and shut" case.
Congress spokesperson renuka Chowdhary said: "Harsh messages have been relayed to several politicians for making such statements and we condemn it strongly. It is very regrettable that some people continue to comment like this without understanding what these issues are.
"There is no question of us accepting such statements and we stand by our principles. This is a challenge before all of us that we need to change this mindset," Chowdhary was asked to comment on the on-air remarks of Sudhakaran,which triggered widespread condemnation not only from the Opposition but even from women leaders of the Congress.
The MP had made sweeping comments against the girl and linked it with the remarks made by former judge of the Kerala High Court, Justice R Basanth, who was part of the two-member bench which acquitted the accused in the case in 2005.
The party spokesperson at the same time indicated that the party is taking the allegations against Kurien with a pinch of salt due to its timing as well as conflicting stands in past.
"We have to examine the porosity of some of the facts. You cannot hang the man simply because he is a politician if he is not guilty. You just cannot take action as anybody throws up a complaint. It's not an open and shut case," a party leader said speaking on condition of anonymity.
The leader questioned why the girl kept silent for so long and is now repeating her allegations. "Now suddenly the witnesses have started saying all this. Why not earlier? There is some disconnect," the leader said. Kurien had met Congress President Sonia Gandhi recently and explained.